Tori Penso: "Be the role you aspire to be"
When the time came to start earning some money as a teenager, Tori Penso weighed up opportunities at the mall – where a lot of her friends were working – or down at the soccer field, where she spent most of her time.
Little did she know at that stage how things would play out, but opting for the latter has provided Penso with two of her main focuses in life – her family and a sport that has made her who she is today.
Having followed in the footsteps of her brothers by taking up officiating, the Florida native is now a revolutionary figure in refereeing as Managing Director of the National Intercollegiate Soccer Officials Association and a valued member of PRO2.
"The choice was easy," she said. "We were a soccer family.
"My first chance to leave the state was the ODP [Olympic Development Program]. That's where I figured out that soccer was bigger than just a weekend at the local park.
"From there, I went to a number of different tournaments from youth regionals to adult national finals, and in this past season, Generation adidas. That's where I met some of the PRO2 committee members and then joined the squad.
"You don't get many opportunities, and when you do, you need to take advantage of them. You never know who's watching, whether it's a U15 boys' game or something bigger.
"Every opportunity you get on that pitch is an opportunity to learn and grow. If you ever walk off the pitch having not learned something, then you're not reflecting effectively."
That thorough grounding has been influential in her successful career both on and off the field.
With a background in marketing from Florida State University and Case Western Reserve University, she has created projects for several national and international clients. But with her new leadership role at the NISOA combined with her on-field duties, every day revolves around soccer.
Penso, married to established MLS referee Chris, works NWSL and USL Championship matches and speaks fondly of her time so far with PRO2.
"It's a fantastic program," she added. "It's more than just assessors who are coming to grade you.
"You're getting personalized one-on-one coaching; intimate conversations with someone that you trust, who is focused on your career goals. It helps you understand where you want to go and the steps to get there.
"When you get to certain levels in your career, you need mentors and supporters who have been there before to help you understand the nuances. The support is what's fabulous about the PRO2 family."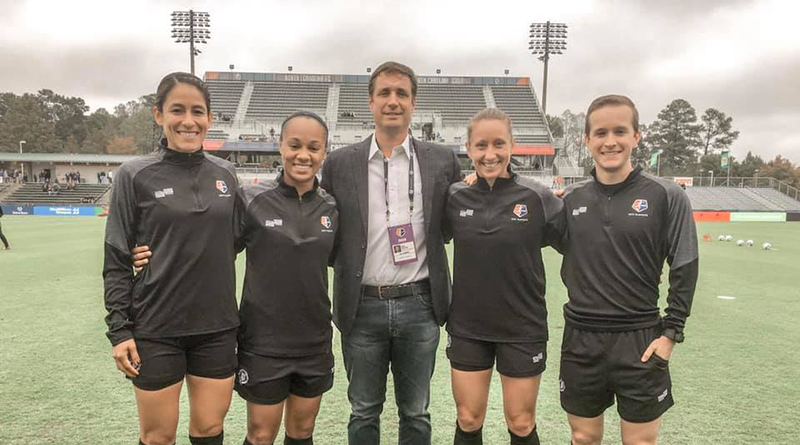 ---
Refereeing as part of PRO2 has also taught Penso valuable life lessons – perfect for a mother of three and a growing role model for women in the soccer world.
"I had some advice a long time ago, which works in both the referee profession and your regular career as well," she explained. "Be the role that you aspire to be.
"So, if you want to be a regional referee, take up tribute to what regional referees are doing both on and off the pitch.
"If you want to be a professional referee, what is it that they're doing? How can you mirror that and bring it into your portfolio?
"This continues all the way up to FIFA, World Cups and whatever else you want to do – act the level that you aspire to be."