Play of the Week 19: Offside – referee/AR dialogue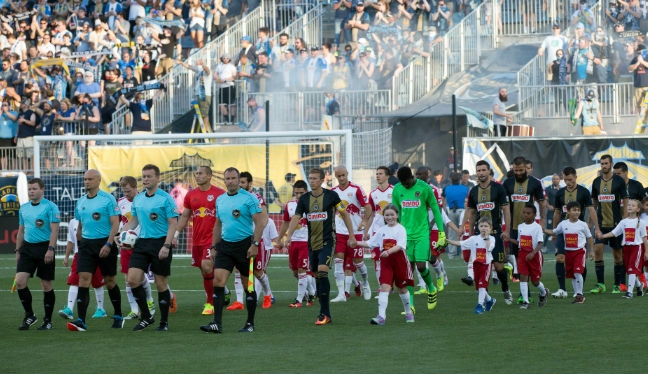 Image – left to right: Eric Weisbrod (AR), Robert Sibiga (4th), Alan Kelly (ref) and Brian Dunn (AR) lead out PHI and NY.
By PRO Training & Development Manager Paul Rejer
In Play of the Week 19 we are discussing the importance of dialogue in certain offside decisions. The play is from Philadelphia Union versus New York Red Bulls.
When Union's Chris Pontius crosses the ball into the penalty area, it is challenged for by Red Bulls' Felipe and Union's Roland Alberg. It then goes directly to C.J. Sapong, who is in an offside position, before he puts the ball into the goal.
AR Eric Weisbrod raises his flag and enters into dialogue with referee Alan Kelly to discuss who last played the ball. Weisbrod is convinced the ball is played by Alberg but it is always best to check prior to the game restarting. Kelly confirms that he also believes that Alberg last played the ball so the goal is correctly disallowed.
PRO has been advocating for this type of dialogue for some time. Gone are the days when match officials work in isolation – now it is imperative for them to communicate and share information. This is called the "Jigsaw Effect", where by sharing their information, the officials are putting the puzzle together to make the correct decision.
This is good teamwork and also a very good adjudication by Weisbrod as he is concentrating on the whole scenario when he is aware that Sapong is moving in the opposite direction to play the ball. On some occasions, ARs are transfixed on the second last defender and forwards moving towards goal, losing track of players moving in the opposite direction.
We have often discussed the benefits of raising the flag in this type of situation against keeping the flag down when having dialogue. There are arguments to support either viewpoint. In this case, Weisbrod was sure the ball was played by Alberg so he automatically raised his flag.
Whichever view you have, the important aspect in these types of plays is to encourage officials to engage in dialogue to make the correct decision and not work in isolation. This play shows all the benefits of good effective teamwork and ensures the officiating crew come to the correct outcome!
Read more: Click here to see other Play of the Week's from PRO's Paul Rejer