Play of the Week 28: Positioning on extreme edge of penalty area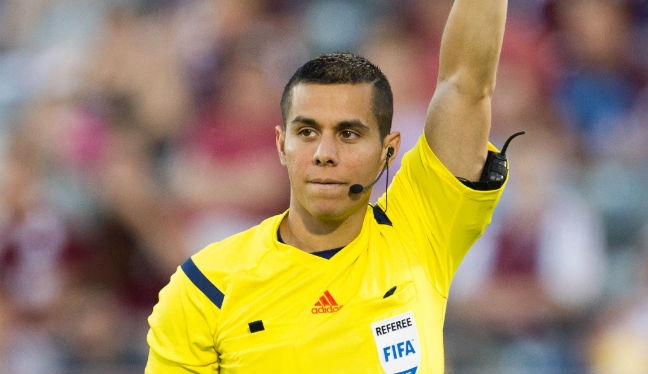 By PRO Training & Development Manager Paul Rejer
In Play of the Week 28 we are examining the referee's positioning on the extreme edge of the penalty area, in and around the line running parallel with the touchline patrolled by that of the AR.
This week's play is from a PK awarded at 12:55 in the New York Red Bulls versus Chicago Fire game.
Red Bulls' Damien Perrinelle trips Fire's Kennedy Igboananike very close to this line. Referee Armando Villarreal is in a central position, which is actually okay for a starting position. However, he does not anticipate and move to a better position as play is developing.
He awards a PK to Chicago but, in reality, he cannot know for certain whether the contact took place in or out of the penalty area.
You can judge for yourselves whether it is in or out – watch the replays and again in slow motion. It's difficult to tell. Due to his position, this call lacks credibility and provides defenders with a reason to contest the decision.
This diagram shows the zone which would have afforded Villarreal a far better viewing angle.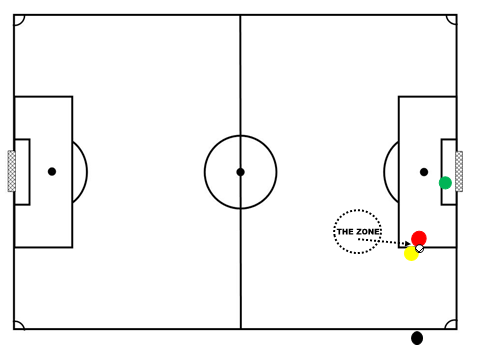 Making the same call from this 'zone' would have provided the referee with a better angle, but it would still have been difficult to judge. The call would have been more readily accepted, however, as his position would have been seen to be credible.
It is vitally important in the modern game that referees anticipate play and position themselves accordingly so they have the optimum view of any potential incident.
One of the most critical areas is this parallel penalty area line. Despite the close proximity of the AR, it is virtually impossible for that AR to be able to judge whether a foul takes place in or out of the penalty area.
Gone are the days when referees are expected to adhere to the old diagonal system. When appropriate, they have to move closer to the AR and this play highlights the importance of such movement.
We have highlighted before that the area that used to be described as the AR's area of responsibility is now an area where quite often the AR needs help. His position is prescriptive, and also he has other priorities, such as offside and ball out of play.
The penalty area line parallel to the touch line requires the referee's attention and he must make every effort to be there.