Play of the Week 22: Positioning to determine a penalty kick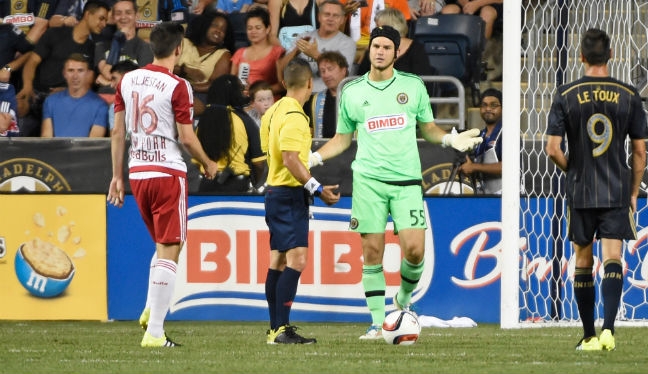 By PRO Training & Development Manager Paul Rejer
As a follow up from Week 16 when we discussed positioning during dynamic play, I would like to feature positioning to determine PK calls and look at three examples from the weekend's MLS action.
In a recent study that we conducted it was revealed that 86.7 per cent of incorrect decisions happen when referees are not in the optimum position. As we approach the crunch time of the season, it is vital that referees obtain the best position possible to dramatically increase the odds of making the correct call.
Penalty kicks are game-changing situations that can ultimately decide the success of a team over the course of the season.
Play of the Week 22 features three PK calls – two awarded and one denied. Two are from the Philadelphia Union versus New York Red Bulls game with the other from Chicago Fire versus FC Dallas.
Firstly, in the 65th minute at the former game, as a Red Bulls attacking move develops, we see referee Armando Villarreal accelerate in order to be closer to the play to have a perfect view of when Shaun Wright-Phillips is brought down by Union's Tranquillo Barnetta.
Then, only three minutes later, Villarreal is called upon to make another PK decision when Red Bulls defender Connor Lade makes a tackle on Philadelphia's Fabinho.
When looking at Villarreal's movements you can see that he takes a wider and closer position to have a perfect view, to correctly decide that Lade wins the ball fairly. Judging by Villarreal's position and confident body language, you cannot possibly argue with him.
In the Chicago Fire versus FC Dallas game, you see referee Jair Marrufo start his run from within one half. Then, with superb agility and pace, he creates a perfect angle for himself when Dallas' Kellyn Acosta trips Kennedy Igboananike just inside the penalty area. If you look at Marrufo's incredible position and confident positive point to the spot, you cannot doubt this call.
Being in the optimum position doesn't guarantee making the correct call but it certainly helps provide the referee with a much better chance.
Executing these dynamic bursts of speed and acceleration is a product of preparation and professionalism off the field. You also have to be able to anticipate and read the game.
The examples used here show any ambitious referees what they have to aspire to, and the high level of fitness and positioning that is required at the top levels of the game.