PRO supports Huntington's Disease Awareness Month
Throughout May, PRO officials will once again be supporting Huntington's Disease Society of America's (HDSA) drive to increase awareness of the fight against Huntington's Disease. They will be wearing blue wristbands to honor former referee Terry Vaughn in all MLS, USL and NWSL games.
Your support could make a difference during #HuntingtonsDisease awareness month. Join the conversation on social media by using the hashtag #LetsTalkAboutHD.
---
Terry Vaughn
---
Born and raised in Mount Vernon, Iowa, Terry learned he had the gene that causes HD when he was 30 but never let his fight with Huntington's disease prevent him from achieving his goal to be one of the top officials in the United States.
His refereeing career was one that took him to many places, meeting many people. A representative of U.S. Soccer from 1987 to 2012, he has been a friend, mentor and referee to thousands of people in the game.
Terry was on the FIFA panel for nine years and worked international tournaments, including the 2007 U20s World Cup in Canada, refereed in the CONCACAF Champions League and worked college games for more than 20 years. He is also proudly included in the NISOA Hall of Fame.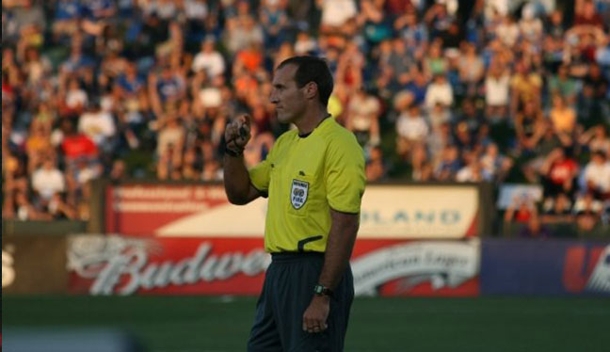 ---
Huntington's disease
---
Huntington's disease is an incurable, hereditary brain disorder. It is a devastating disease for which there is currently no effective treatment.
Current medications only attack the symptoms, rather than the underlying issues of Huntington's Disease, in which nerve cells become damaged, causing various parts of the brain to deteriorate.
HDSA: Please click here to learn more about the Huntington's Disease Society of America
The disease affects movement, behavior and cognition – the individuals' abilities to walk, think, reason and talk are gradually eroded to such a point that they eventually become entirely reliant on other people for their care.
Huntington's disease has a major emotional, mental, social and economic impact on the lives of patients, as well as their families.
---
Join the conversation on social media by using the hashtag #LetsTalkAboutHD.