Glasgow City Cup – 2017 blog
Natalie Simon and Brooke Mayo were PRO's representatives at the Glasgow City Cup at the beginning of August, and they've teamed up to write a blog about their every move at the annual tournament in Scotland.
Thursday (Day One) 8/3/17:
Brooke and I both had originally planned on flying into Scotland a few days early to do some sightseeing together, but flight delays and weather ruined our plans a little bit. Brooke was still able to do quite of bit of sightseeing in Edinburgh and St. Andrews a few days before the tournament started.
Her 'Airbnb' host invited her to tag along for his Highland Games running event in St. Andrews. She was able to watch events in running, cycling, solo piping, Scottish dancing, heavies – where strong men throw heavy things in kilts – and tug of war. Brooke was also able to explore the ruins of the St. Andrews cathedral and castle, dating back to the 1100's.
Our host Paul took us to the Kelvingrove Museum, which is one of the biggest museums in Europe and contained a ton of art, history, and cultural artifacts from all over the world.  We had a great time exploring Glasgow and getting an insight into this beautiful country's history.
Paul drove us all over different parts of Glasgow and we were in awe of the greenery and farmland. The gorgeous hillsides filled with cows and sheep were absolutely stunning.
Our host took us out to dinner where we met up with Fini [Sandra Serafini, PRO Strategic Initiatives Manager] and our tournament director. Fini gave us a Glaswegian patter book to study.  We all had a good laugh, going through the patter book and learning some Glaswegian phrases and words.
Friday (Day Two) 8/4/17:
Paul and Elaine were surprised how quickly we made ourselves at home. We woke and started preparing a solid breakfast in preparation for our first game of the weekend. The weather was a typical Scottish day; cold and rainy. Refereeing in these elements was definitely a new experience for us. We were still so anxious to get out on the field and experience Scottish football firsthand.
Today we had the pleasure of refereeing a friendly between professional Scottish coaches and former professional Scottish national team players. This was such an incredible opportunity. We had an amazing time and the game flowed smoothly. The players were so much fun to interact with, even though we could only understand half of what they were saying… Scottish is not the easiest to understand!
Saturday (Day Three) 8/5/17:
Today was the first day of the Glasgow City Cup tournament. We were anxious to meet the local up-and-coming Scottish referees and see more Scottish football. After receiving our game assignments, we were able to talk with our crews and learn a little bit about how they manage players and coaches.
One of the biggest differences we immediately noticed was the spectators and technical areas. In Scotland, we learned they typically only use one official per game at the youth level. This means that fans and coaches are used to standing VERY close to the field because there are no assistants. 
Running the line was at times a contact sport, and it was entertaining to say the least. Brooke became very close with all of the coaches and fans as they all had a laugh when asked to "scoot back."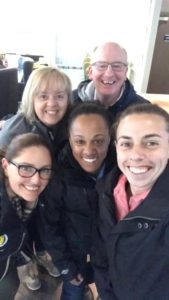 On Saturday night, we went out to a nice group dinner with our hosts Paul and Elaine, Fini, and a couple of Scottish referees. We had the opportunity to sample a few of the traditional Scottish dishes like haggis and black pudding and I must say we both enjoyed it surprisingly! Brooke and I may have been a little hesitant at first, but we both felt a little Scottish after indulging in the local food. 
Sunday (Day Four) 8/6/17:
We were definitely surprised at how intense the youth soccer players were in Scotland. It made every game so exciting and hilarious all at the same time. Natalie struggled to understand some of the players on the field when they would complain about a call. All she could do was smile most of the time.
We also learned that the expectations for fouls were completely different from the fouls we typically call in the States. Upper body challenges are not welcomed at all by the players, but they were very comfortable challenging for the ball with high boots.
In our last game, we were able to work with an all-female crew and it was a great game. Brooke and I worked really well together and Anna who is a young referee did a fantastic job.
It was truly hard to say goodbye to some of our new Scottish referee friends we made during our time in Glasgow. We exchanged a ton of gifts (hats, coins, scarves, shirts, etc.) and said our goodbyes to everyone. We even had a couple of them give us their Scottish jerseys.
We'll always treasure the memories we made with the incredible people we met while in Scotland. Everyone was so friendly and made us feel right at home.