Play of the Week 9: Offside – referee awareness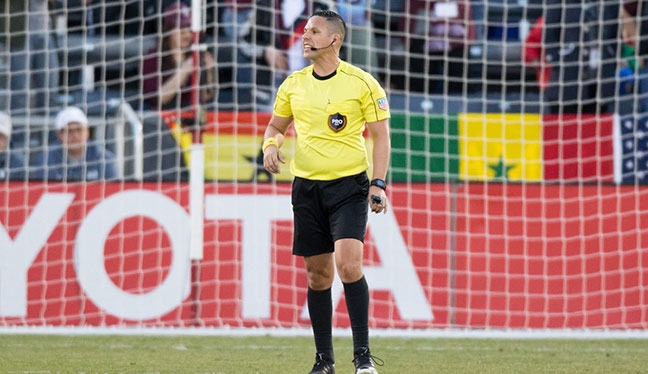 By PRO Training & Development Manager Paul Rejer
We have often discussed the importance of teamwork on offside decisions and the responsibility of referees to think of offside as part of their repertoire.
Already this season, I have highlighted a number of examples of offside referee awareness and this week's play, from Sporting Kansas City versus Real Salt Lake, is another one.
As RSL's Yura Movsisyan takes a shot, his teammate Joao Plata strays into an offside position. Movsisyan's shot, which is heading to the left of SKC goalkeeper Tim Melia, hits Plata and deflects to Melia's right. This deflection totally fools the goalkeeper and the ball goes past him into the goal.
Referee Jose Carlos Rivero immediately suspected that Plata was offside but, with no signal from his assistant referee Anthony Vasoli, the referee needed to speak to the AR, which is always recommended.
If you look at Vasoli's body language, he appears to have no problem with the goal as usually the AR would stand motionless and instigate conversation with the referee. Looking at Vasoli's movements, he doesn't react in order to be level with the second last defender and ends up level with the two offside positioned attackers.
However, in this play, the RSL players are clearly offside which Vasoli can still judge, albeit not from an optimum position. What Vasoli may not have seen is the deflection of the ball off Plata. You may think that this is obvious but the referee has a far better angle to see it.
Often when referees go over to ARs, players follow them to try and influence the decision. As Rivero is on his way over, we see a great piece of improvisation when he sprays a line 10 yards from Vasoli and warns the players if they cross it, they will receive a yellow card.
I have never seen the spray used in this manner before as it is usually used for making sure that players are 10 yards from the ball at ceremonial free-kicks. Rivero may have started a new trend!
You can see the line on the field and the players respectfully standing behind it, to ensure a private, uninterrupted conversation between the officials. Despite the communications kit, players, coaches and fans still accept decisions more readily if the referee goes over to the assistant referee, so everyone can see the dialogue taking place.
During the conversation, Rivero gets the information he was seeking, that Plata was in an offside position, and he then correctly disallows the goal. This is another example of how important dialogue is between the referee and AR, putting the pieces of the jigsaw together to arrive at the correct decision. Gone are the days when offside was the sole responsibility of the AR.
In many cases, such as this play, the referee can be the instigator. This was a wonderful example of quick thinking, proactivity, awareness and diligence from a referee who knows the value of teamwork and dialogue.