Development Group officials enjoy ground-breaking preseason training camp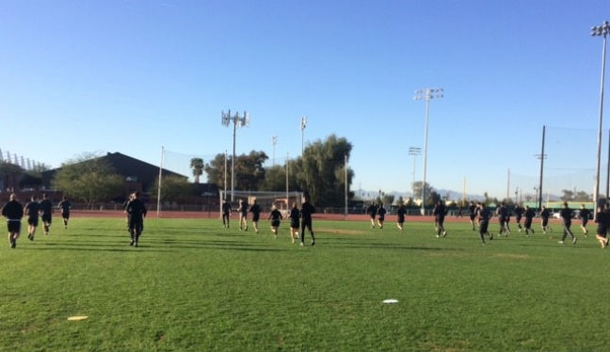 Fitness, positioning, teamwork, nutrition, player management, key match incidents. The list of topics covered at PRO's camps are always lengthy, giving officials and ref-coaches the education, training and support they need perform to their full potential.
That was again the case in Phoenix, AZ, in early March, when more than 50 referees, assistant referees and National Ref-Coaches gathered at Grand Canyon University for a weekend of hard work.
This wasn't just any training camp, though, this was the first time that NASL, USL and NWSL officials had been brought together under PRO's new Development Program, which aims to recognize and develop the future top-level referees and ARs.
Development Program: Click here to read more about the program
PRO collaborated with U.S Soccer to select the officials for the camp, putting forward those who aspire to become professional referees and ARs.
PRO Match Officials Development Manager Alex Prus, who is leading the program as chair of the Development Committee, left the camp feeling optimistic about the future and thankful for the efforts shown by staff, officials and partners, in making it such a successful event.
"We will have ups and downs but with all the support that our officials will have this year we will keep improving," the former MLS referee said. "The best performers on the field will have an opportunity to advance in our rankings.
"I would like to thank all PRO staff for the hard work they applied in order to prepare such an excellent camp. Their countless hours of preparation were clearly noticed as our camp was a very smooth event and advanced learning took place in the classrooms and on the field.
"I would like to send a special thank you to Grand Canyon University for hosting us at their first-class facilities. We were given great hospitality from the University's coach Schellas Hyndman and the outstanding work ethic from his players made our field session very successful.
"Also, I would like to thank Julie Tobin and Official Sports for supporting the PRO Development Group, and I wish all of our officials and partners a very successful 2017 season."
U.S. Soccer's Director of Referee Development, Rick Eddy, added: "It is a group that shows potential on the field and works hard off the field with fitness, nutrition and classroom sessions.
"The development committee is working to assign and train the officials to the appropriate games to showcase and further develop the skills need to officiate in the professional leagues."
The Lowdown – My weekend with the NWSL referees
Alongside the officials and staff at camp was The Equalizer's Dan Lauletta, who was welcomed in to the group to get a behind-the-scenes insight.
He has shared his diary of the weekend on EqualizerSoccer.com, which you can read via the below link.
EqualizerSoccer.com: Click here to read Dan Lauletta's lowdown from preseason training
The Development Group coaches
Alongside Prus on PRO's Development Committee is a group of support staff members who are dedicated to identifying, training and developing the up-and-coming soccer officials in North America.
They were all present at camp in Phoenix and led groups through the various classroom and field sessions over the course of the weekend.
Here's what they had to say…
Regional Development Assistant, Erich Simmons: "The officials in my group have thanked PRO for a very organized, educational weekend. They were like sponges and soaked up the info given to them! They said the topics were on-point and the field sessions got them thinking about where and when to be on the field during certain types of situations during dynamic play. I have been asked by numerous officials where and when the next camp will take place because they are looking forward to it."
Assistant referee coach, JP Spicer-Escalante: "The vibe was very positive amongst all the referees and assistant referees at the camp. They came ready to work hard both on the field and in the classroom. If that positive collective attitude is any indicator – beyond Matt Hawkey's comments on their very good overall fitness level – I have high hopes for all of them to perform well both individually and as referee teams. It was truly a pleasure to work with all of them and the staff."
Regional Development Assistant, Alan Black: "The feedback I received from my group of referees was that the training camp had really given them an added enthusiasm for the upcoming season – they were pumped for the games ahead and could not wait to get started. Several of the group were very appreciative of the insights into player management technique and managing the temperature of the game. In preseason games since camp they have been putting these techniques into practice. Being part of a group like this and attending the camp has sharpened their focus incredibly."
Strategic Initiatives Manager, Sandra Serafini: "The officials in my group, and as a whole, were very positive about their experience. Seeing the off-season data about decision trends in each league was eye-opening but helpful as it gave them some targets of what to focus on for this season.
"They were especially enthusiastic about the field sessions and getting the chance to apply some of the theory they were being taught in the classroom. All said the topics were timely and relevant and they came out of the weekend inspired and motivated. The officials were also quite happy to see that the ref-coaches were there to get the same training as they did, so all the ships sail in the same direction. They are itching to get started on games."
Development: Click here to read more about PRO's Development Program