Play of the Week 31: Violent conduct and teamwork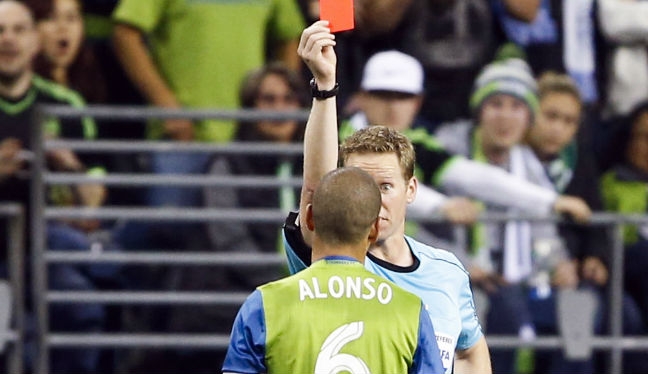 By PRO Training & Development Manager Paul Rejer
In this Play of the Week we are discussing violent conduct. We will examine the guidelines contained within the Laws of the Game and look at the process and good practices when making and administering such decisions. The play is from the MLS game between Seattle Sounders and Houston Dynamo.
As a Seattle attack is developing, Sounders' Osvaldo Alonso is fouled by Dynamo's Will Bruin. Referee Drew Fischer initially decides to play advantage as the ball breaks loose and the attacking move continues.
This provides him with a dilemma as the advantage is so good. However, Fischer astutely keeps his gaze on the two players as he can see them moving towards each other in an aggressive manner.
He realizes that he now has to stop the game and intervene in a preventative manner to avoid a mass confrontation from developing. This is actually mentioned in the Law guidelines. I quote:
"Referees are reminded that violent conduct often leads to mass confrontation, therefore they must try to avert this with active intervention.
"Advantage should not be applied in situations involving violent conduct unless there is a clear subsequent opportunity to score a goal. The referee must send off the player guilty of violent conduct when the ball is next out of play."
The referee in this play is joined by his assistant Cameron Blanchard, who effectively assists with diffusing the situation.
You will see that Alonso becomes more aggressive than Bruin and initially has his hands in his opponent's face. There is never any excuse for this and it can be interpreted as violent conduct in itself.
When Alonso swings his hand into Bruin's face again, this is seen by AR Blanchard and seals Alonso's fate.
"A player is guilty of violent conduct if he uses excessive force or brutality against an opponent when not challenging for the ball."
You will see that the body language of both officials is composed. This is very important for officials as their calmness will transmit to the players and influence peace, whereas an aggressive persona or any sign of panic may inflame the situation.
Fischer and Blanchard finally get together to discuss what they have seen, before the referee takes the appropriate action. This is excellent teamwork as AR Blanchard was aware that Fischer was initially focused on the advantage, so he kept his eyes firmly on the developing situation between Alonso and Bruin.
Blanchard informs the referee of the actions of the two players and recommends the course of action. The referee then issues a yellow card to Bruin for his part in the confrontation and a red card to Alonso for violent conduct.
He issues them in an assertive but calm and confident manner. Alonso is not surprised and accepts his fate.
"A player, substitute or substituted player who is guilty of violent conduct must be sent off."
This play is a great example of seeing, recognizing and acting on violent conduct, and correctly applying the Laws of the Game. It also illustrates the benefits of effective teamwork with the AR taking full responsibility.
The process that the referee and AR demonstrate is not only preventative and proactive, thus restoring order, but it also ensures the Laws of the Game are applied correctly.
Read more: Click here to see other Play of the Week's from PRO's Paul Rejer