Play of the Week 26: Recognizing challenges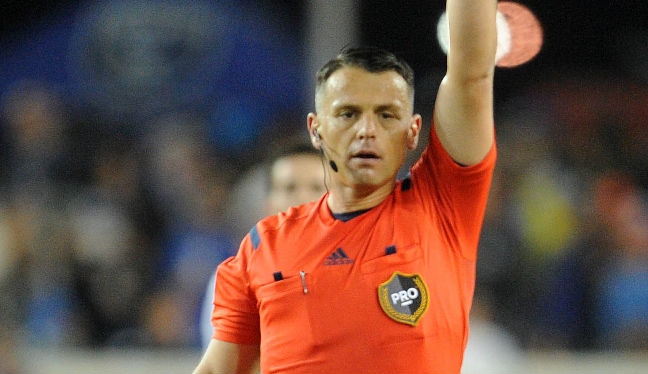 By PRO Training & Development Manager Paul Rejer
At our mid-season camp in Park City, Utah, last week we held a session on 'recognizing challenges'. We discussed a number of challenges and categorized them as below:
– No foul
– Free kick
– Free kick and yellow card
– Free kick and red card
We then examined the Laws of the Game to assist us with our deliberations:
Careless
"Careless means that the player has shown a lack of attention or consideration when making a challenge, or that he has acted without precaution" = direct free kick only.
Reckless
"Reckless" means that the player has acted with completed disregard to the danger to, or the consequences for, his opponent." = direct free kick or penalty kick and caution.
Excessive force
Any player who lunges at an opponent in challenging for the ball from the front, from the side or from behind using one or both legs, with excessive force and endangering the safety of an opponent, is guilty of serious foul play." = direct free kick or penalty kick and send off.
If it was decided that an incorrect decision had been made, we looked into the reasons why, and it's very rare that it's due to the officials simply not recognizing the challenge. There are usually other factors such as positioning, wrong viewing angle, or incorrect information from a crew member.
In Play of the Week 26, we are looking at a foul tackle from Vancouver Whitecaps versus New York Red Bulls, and the process of how the officials made the call.
At the time Whitecaps' Fraser Aird commits the foul on Aurelien Collin near to the technical area, referee Sorin Stoica is stationary in midfield. Perhaps he should have anticipated the challenge to get closer. As soon as he sees the foul and realizes it is a strong challenge, he quickly moves to the scene so his presence diffuses any potential retaliation. Fourth official Dave Gantar also makes his presence felt to deter potential misconduct.
With the foul occurring so close to his two colleagues, as Collin receives treatment, Stoica consults  Gantar and AR Peter Manikowski to confirm the nature of the challenge.
This is wise refereeing as he knows that decision making for these types of fouls is all about viewing angle. Although it appeared to be reckless from the referee's angle, Manikowski and Gantar may have more information as they were all looking from different angles.
Between them they correctly decide that this challenge fits the 'reckless' category. While there was force in the challenge, Aird's feet were at ground level and did not rise to level or above the ankle. If contact occurs ankle level or above, then this challenge would have been regarded as excessive force and a red card would have been the correct outcome.
This was good teamwork between the members of the crew to arrive at the correct decision. As they were all observing from a triangular viewpoint, they would have seen the challenge from three different angles. Between them, they agreed the challenge was reckless and worthy of a yellow card, and this was absolutely appropriate.
Read more: Click here to see other Play of the Week's from PRO's Paul Rejer