Play of the Week 27: DOGSO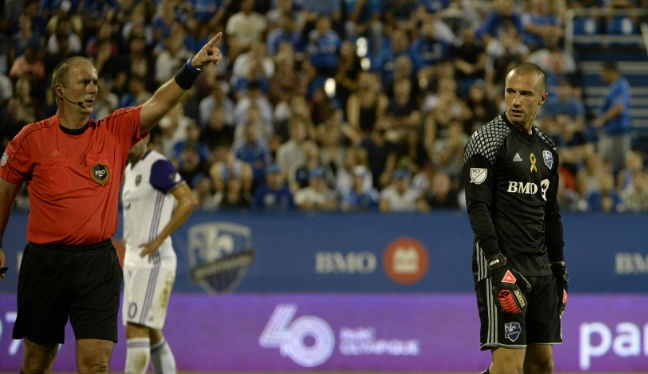 By PRO Training & Development Manager Paul Rejer
In Play of the Week 28 we are revisiting DOGSO (denial of an obvious goalscoring opportunity) and the criteria that referees have to consider when they are faced with a potential DOGSO situation.
Criteria for deciding when to penalize for denying an opponent an obvious goalscoring opportunity:
– Distance between the offence and the goal
– Likelihood of keeping or gaining control of the ball
– Direction of the play
– Location and number of defenders
We are examining two plays that, on face value, may appear similar, but all of the above criteria must apply before the offending player should be sent off.
The first play is from Montreal Impact versus Orlando City. In this clip, City's Carlos Rivas is fouled by Impact goalkeeper Evan Bush and referee Silviu Petrescu has no hesitation in sending off Bush – but is he correct?
At the moment Rivas is brought down by Bush, the direction of play is – or would have been – towards goal, the location is inside the penalty area and the defenders are too far away to impact on the play.
However, as Rivas plays the ball to his left, it appears to be moving at some pace so the likelihood of him keeping or gaining control of it appears to be unlikely. Therefore, this does not meet the entire DOGSO criterion.
The second play is from New England Revolution versus Colorado Rapids. The Revs' Kelyn Rowe is fouled by Rapids goalkeeper Zac MacMath but referee Alan Kelly does not send MacMath off – is he correct?
The same criteria applies in this play as in the first. However, the touch on the ball by Rowe is not as heavy as Rivas', so the likelihood of Rowe keeping or gaining control of the ball is highly likely.
Here, there is a covering defender in Bobby Burling. It must be remembered, though, that an outfield player cannot play the ball with his hands. So with Rowe in possession of the ball and only Burling to beat; an obvious goalscoring opportunity has been denied. Therefore, MacMath should have been sent off.
Two similar plays, with the only difference being the likelihood of keeping or gaining control of the ball.
The above list is the criterion for DOGSO and it's important that they all apply before the referee sends off the defending player.
*Please note, we are not adopting the new law changes in MLS until 2017 and, under those changes, neither of these would be red cards.
Read more: Click here to see other Play of the Week's from PRO's Paul Rejer