Play of the Week 11: Injury stoppages and responsibilities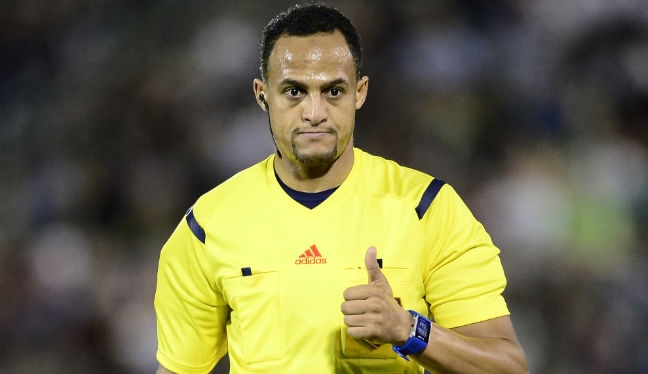 By PRO Training & Development Manager Paul Rejer
In Play of the Week 11 we are again discussing the obligation of referees and players to stop the game due to injury.
This play is from the Sporting Kansas City versus Orlando City game.
When Orlando's Darwin Ceren goes to ground inside his own penalty area with no players around him, his team-mate, Kevin Molino, has possession of the ball moving up field.
He is then tackled by SKC's Jimmy Medranda and the ball goes to Benny Feilhaber, who plays a through ball to Dom Dwyer. Forward Dwyer would have been offside but injured Ceren is lying on the ground and consequently playing him onside.
AR Jeremy Hanson correctly keeps his flag down and Dwyer takes a shot at goal, which Orlando's goalkeeper Joe Bendik parries out. The attack continues and eventually Graham Zusi takes another shot at goal, which is again saved by Bendik.
Please listen to the commentary. They believe it's the referee's responsibility to stop the game in such cases and unfortunately this is a widespread concept.
The law states that the referee "stops the match if, in his opinion, a player is seriously injured and ensures that he is removed from the field of play".
It also adds that the referee "allows play to continue until the ball is out of play if a player is, in his opinion, only slightly injured".
So it's down to the referee's opinion and the opponents, in law, are under no obligation to kick the ball out.
Referee Ismail Elfath has to consider whether there is a serious injury to the player. You can clearly see when he is receiving treatment that the injury is to his leg.
When there is a clash of heads or a clear head injury, there is potential of concussion, and referees will stop the game immediately. Also if the player was in immediate danger, for example in the middle of a crowded penalty area in the midst of players, the referee may consider it to be safer to stop the game.
In this case, none of those conditions applied. If the commentators had their way and referees had to automatically stop the game you could get defenders going down as a tactic to break up every promising attack.
That is why the law requires referees to stop the game only for cases of "serious injuries" and that is down to the judgment of the referee.