Play of the Week 7: DOGSO – Identifying the Offender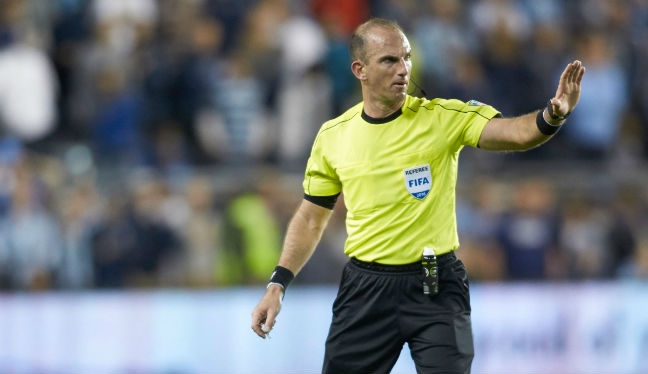 Image: Referee Ted Unkel. 
By PRO Training & Development Manager Paul Rejer
In Play of the Week 7 we are discussing DOGSO (Denial of an Obvious Goal Scoring Opportunity) and correctly identifying the offender.
The play is from the Columbus Crew versus New York City game at 84:50.
We see NYCFC's Kwadwo Poku win the ball in a challenge with Crew captain Michael Parkhurst, before bursting into the penalty area. He is then challenged by Crew defender Tyson Wahl and goes to ground under the weight of the challenge. Referee Ted Unkel awards a penalty kick but then sends off the wrong player, Michael Parkhurst.
When the Crew are building up an attack, you can see Unkel anticipating a possible attacking move. However, a referee always has to anticipate the possibility of a breakdown in play and quickly readjust his position accordingly.
So when Crew lose possession and Poku wins the ball, you can see Unkel readjust very well, accelerating to get into a reasonable position to see any possible infringement inside the penalty area.
When there is contact between Wahl and Poku and the latter goes down, Unkel is in a reasonable position to award the PK.
Following the award of the PK, Unkel looks confused as he is in conversation with his crew, who have informed him that it should be DOGSO and he should send off the offender who committed the 'foul'.
Unfortunately, Unkel has 'lost' the perpetrator and is told by a crew member that it was Parkhurst. Let's remind ourselves of the criteria in the Laws of the Game regarding DOGSO:
Referees should consider the following circumstances when deciding whether to send off a player for denying a goal or an obvious goalscoring opportunity:
– The distance between the offense and the goal
– The likelihood of keeping or gaining control of the ball
– The direction of play
– The location and number of defenders
– The offense which denies an opponent an obvious goal scoring opportunity may be an offense that incurs a direct free kick or an indirect free kick
When considering whether this play fulfills the criteria for DOGSO, you can see that Poku gets a bad touch on the ball and is unlikely to keep or gain control of it. That rules this play out of being an obvious goal scoring opportunity. Obvious being the key word.
So what can referees learn from this?
When there is an attack of this nature, referees should always have in their mind the possibility of DOGSO.
When awarding a free-kick, if it is not obvious to them and they are in a good position, they should stay with their call and not consider any input from crew members.
In any case, referees should always concentrate on the offender and keep him/her in mind to consider a possible sanction of any kind and, of course, the consideration of persistent infringement.
Referees should know their players, particularly MLS players who are well known, and should be aware of the difference between Michael Parkhurst and Tyson Wahl.
As a crew member you should always be careful before imparting any information to the referee unless you are 100 per cent certain into its validity.
Whether you believe this play to be a penalty kick or a DOGSO or not, they are judgment calls that referees have to make and do not have the benefit of a replay.
The most important aspect to learn from this play is to control the controllables by going back to basics and being aware of offenders in any given situation, and that goes for all members of a refereeing crew.