Play of the Week 4: PK award – player stays on his feet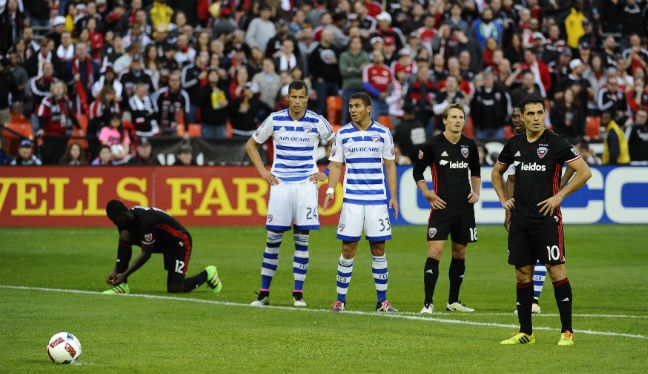 Image: Fabian Espindola prepares to take the PK awarded by Jose Carlos Rivero at DC v FCD
By PRO Training & Development Manager Paul Rejer
It is a perception in the game that many players are cheats, who are prepared to simulate in order to win penalty kicks. There have been occasions when PKs have been awarded incorrectly in many people's opinions.
I have the reverse opinion that there have been numerous occasions when players have been accused of simulation or embellishment rather unfairly, particularly when they have attempted to avoid contact. Also, when a player is running at full speed, it does not take much of a touch to cause a player to fall.
The other misconception is that a player has to go to ground in order to be awarded a PK. Unfortunately, referees worldwide have not helped themselves in this matter as there have been many occasions when players have been fouled but stayed on their feet and, due to this, the referee has not awarded a PK.
The Law states "trips or attempts to trip an opponent". Many referees seem to ignore awarding a free kick or penalty kick when a player has stumbled and stayed on his feet after an opponent has attempted to trip him.
I have been waiting for the occasion a referee is brave enough to award a PK when a player has stayed on his feet. My prayers were answered on Saturday at the game between D.C. United and FC Dallas.
The play starts with D.C. United's Nick DeLeon passing the ball inside the penalty area to team-mate Sean Franklin. After receiving it, Franklin plays the ball past Dallas' Aaron Guillen, who makes contact with him. Franklin stumbles but tries to stay on his feet, and the ball runs away into the arms of Dallas goalkeeper Chris Seitz.
From a good position, referee Jose Carlos Rivero sees the contact and awards a PK. I am sure that the vast majority of the soccer public will disagree with the referee's call, but I believe that this is mainly due to Franklin not falling to ground. If he had gone to ground, and you can see that the contact causes him to stumble, then fewer arguments would be made regarding the validity of this call.
Whether you agree with this call or not, Franklin deserves much credit for resisting the need to fall. If referees awarded more PKs when players do not go to ground, players would not feel they need to fall to ground in order to be awarded a PK and, ultimately, simulation/embellishment would decrease.
Please note, Play of the Week is my personal opinion, not necessarily the official verdict of PRO.