Play of the Week 3: Assistant referee continued concentration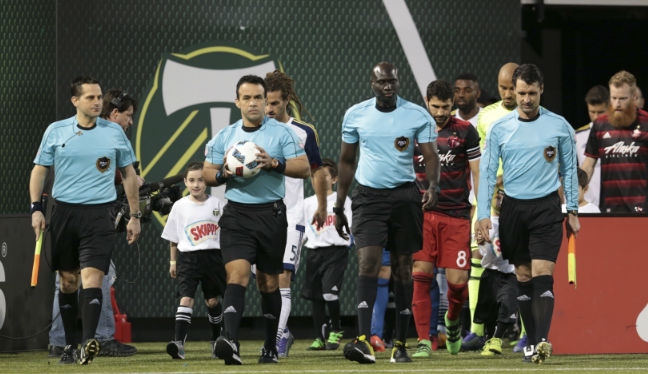 Image: The POR v RSL crew take to the field, with AR Ian Anderson pictured on the far right
By PRO Training & Development Manager Paul Rejer
I have often spoken about AR continued concentration. One of the key attributes that ARs have to possess is the ability to concentrate, particularly when they have just made an important call. They cannot allow that previous call to influence or affect any imminent decisions; they simply have to move on and give any subsequent call their undivided attention.
This week's Play of the Week concentrates on and highlights a five-minute spell of assistant refereeing at the highest level, it is world class assistant refereeing!
In a five-minute period, assistant referee Ian Anderson makes four important calls displaying the following attributes:
– Continued concentration
– Awareness
– Alertness
– Courage
– Conviction
– Technique
– Law knowledge
– Team player
1. You will see that, at 78:39, when the ball is played into the penalty area, Portland Timbers' Nat Borchers is in an offside position, but cannot be penalized because Real Salt Lake defender Sunday Stephen Obayan plays the ball from Diego Valeri's pass.
This is the first tremendous call by Anderson as he is aware of the play by Obayan and correctly keeps his flag down. He also has to decide whether Borchers commits a foul on Salt Lake goalkeeper Nick Rimando. He correctly adjudicates that, although Borchers challenges the keeper, no foul took place.
If the ball had been played by an attacking player, Borchers would have to be penalized for being offside for interfering with an opponent, as he challenged  the 'keeper for the ball. Portland's Dairon Asprilla shoots, hits the bar and then Fanendo Adi slots the ball into the net to score Timbers' first goal.
2. Then, at 79:49, the ball is played into the penalty area by Timbers' Ned Grabavoy, and while Adi is in an offside position, he does not become active as the ball swings over. Jack McInerney is correctly penalized by referee Hilario Grajeda for pushing Aaron Maund. AR Anderson keeps his concentration and, being aware of the offside position of Adi, keeps his flag down as the Timbers' forward was never active.
3. At 81:12 Adi is again in an offside position when the ball is played into the penalty area by Tony Beltran. He challenges goalkeeper Rimando and Anderson correctly calls offside. This required heightened awareness by Anderson as he has to be aware of the position of Adi at the precise moment that the ball is played. He also correctly adjudicates that Adi makes a challenge for the ball.
4. Finally in this five-minute spell, at 82:04, as the ball is crossed into the penalty area, RSL's Jamison Olave strikes Adi in the face in an off-the-ball incident. Anderson, still totally focused and preparing in his mind for a potential offside, witnesses this act of violent conduct, signals and informs referee Grajeda, who correctly sends off Olave and awards a PK to Portland. Anderson has the courage of his convictions to raise his flag. Grajeda has no hesitation in showing the red card to Olave.
Please look at the whole five minutes and see a total masterclass in assistant refereeing, showing all the attributes that is required to be a world class assistant referee. Any aspiring AR who has any ambitions to reach the top; look and learn.