Play of the Week 25: Violent conduct recognition – fitness and positioning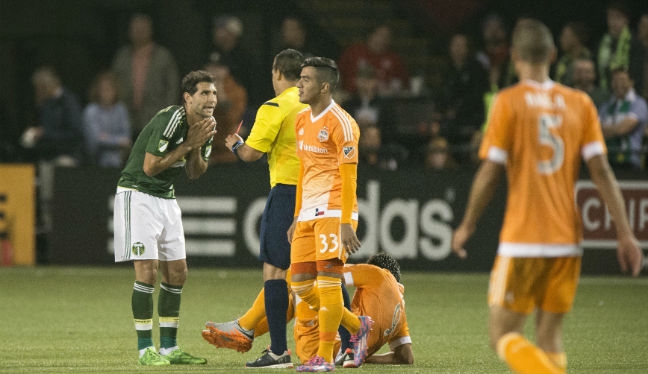 By PRO Training & Development Manager Paul Rejer
In Play of the Week 25 we examine the criteria for violent conduct and the importance of a referee being in the optimum position when making such a call. The play used is in the closing stages of the Portland Timbers versus Houston Dynamo game.
The play starts in the penalty area then moves quickly into the other half of the field. At this late stage of the game it is absolutely crucial that referees have the necessary stamina to accelerate and sprint efficiently enough to keep at pace with the game.
Referee Ricardo Salazar uses his vast experience to know he has to be in a credible position as play breaks, in case he is called upon to make a game critical decision. When Timbers' Diego Chara swings his elbow into the face of Dynamo's Erick Torres, Salazar is only a few yards away and has a clear view. He has no hesitation in correctly sending off Chara.
What does the law say regarding violent conduct?
"A player is guilty of violent conduct if he uses excessive force or brutality against an opponent when not challenging for the ball."
It is clear that Chara is not challenging for the ball as Torres has already played the ball away.
Elbows/arms in an opponent's head/face is usually one of the most difficult judgment decisions that match officials are called upon to make as quite often players use their arms to assist them in jumping for the ball.
Referees have to judge whether the arm has swung back at the opponent as a weapon or contact with the arm is incidental, as part of the natural elevation of the player.
The referees have to ensure they are in the optimum position to at least provide the platform on which to make the correct call. This may be one of the more obvious examples you will see but, in real time from distance or from the wrong angle, nothing is obvious.
Salazar's stamina in the final minutes of the game ensured he was in the optimum position to make the correct call and provided him with the inner confidence that he knew he had made the correct call by explaining to players exactly what had occurred.
There are few futile arguments from Portland players but Chara accepts his fate and resigns himself to leaving the field without further argument.