Play of the Week 14: Simulation in HOU v NY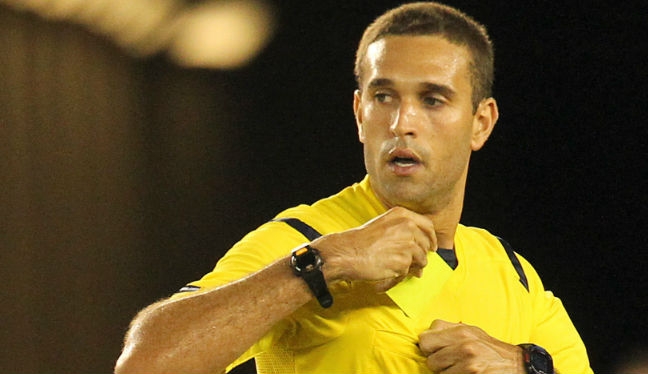 By PRO Training & Development Manager Paul Rejer
In Play of the Week 14 we are looking at simulation in general, but focusing on an incident from Houston Dynamo versus New York Red Bulls in the 62nd minute.
The law says if a player 'attempts to deceive the referee by feigning injury or pretending to have been fouled' he must be cautioned for unsporting behavior.
In this play, Houston goalkeeper Tyler Deric dives in at the feet of Red Bulls' Mike Grella, who has possession of the ball. This is a gamble by Deric – goalkeepers run the risk of mistiming challenges like this, failing to take the ball cleanly and making contact with the opponent.
On most occasions, forwards are running at great pace and any contact, or even no contact, from a keeper diving in can cause the forward to go down and lose possession of the ball. Most times there is no intent from the keeper to foul, but of course there doesn't have to be, he just needs to be at least careless.
Any time a referee is judging acts of potential simulation, he has to be absolutely sure of the criteria laid down in the Laws of the Game – the player is attempting to deceive him. The referee must have clear evidence that this is the case. If there is any contact or potential contact then it cannot be simulation but it could be embellishment, which is not a mandatory cautionable offense.
When you see this incident from various angles it is difficult to see any lack of contact between the keeper and Grella, and whether or not you believe it to be a PK or not – and I personally believe it is – it certainly cannot be construed as simulation. Referee Marcos De Oliveira does not award a PK, which is his prerogative, but cautions Mike Grella for simulation, without any clear evidence.
There is a general misconception that if it's not a penalty and the player goes down then it has to be simulation, and referees unfortunately often produce a yellow card as a justification for not awarding the PK.
So, what can we learn from this play:
1. Be 100 per cent sure that the player clearly attempted to deceive
2. Look at the actions of the keeper/defender as well as the attacker
3. Are the actions of the keeper/defender 'running the risk' of committing a foul?
4. Do not justify a no call with a yellow card
And finally:
5. If it is not a PK, it is not a PK – it doesn't mean it's simulation