Play of the Week 12: Gaining an Advantage in LA v HOU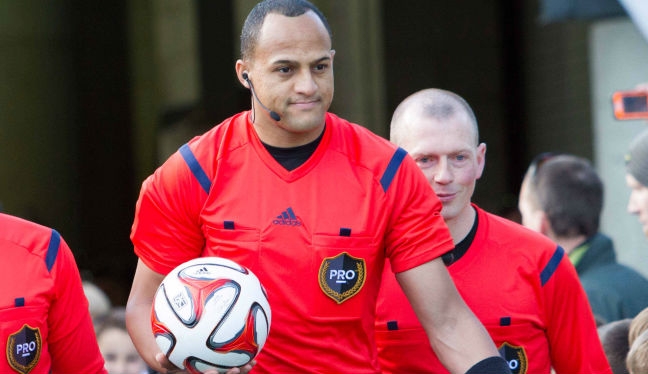 By PRO Training & Development Manager Paul Rejer
I make no apology for looking at yet another 'Gaining an Advantage' situation in Play of the Week 12, from the LA Galaxy versus Houston Dynamo (14:27).
I would like to compare this one with Play of the Week 9, and clarify PRO's opinion.
Gone are the days when referees can completely rely on their ARs on offside calls. In this week's play we have a long ball played forward then deliberately headed on its way by Dynamo's Raul Rodriguez to Galaxy's Gyasi Zardes who is presented with an opportunity to score.
This play illustrates the difficulties that ARs face when presented with an offside call from a long ball. AR Marco Arruda cannot see both the moment the ball is initially played and the offside positioned player, Zardes, in his peripheral vision, as the distance is too far.
Momentarily he has to take his gaze off Zardes and the second-last defender, as he needs to know the exact moment it is played, but then immediately turn his focus on Zardes who is in an offside position.
This is why he raises his flag. Due to this natural process described above I would be surprised if he saw the header by Rodriguez as his main priorities are kicker, second-last defender and receiver.
Fortunately referee Ismail Elfath shows great awareness by recognizing and judging that the ball was deliberately played by the defender and correctly allows play to continue. Arruda reacts quickly and catches up with play – a great example of teamwork with the referee assisting his assistant to make the correct call.
Play of the Week 9: Results and PRO clarification on Gaining an Advantage in RSL v SJ
If we compare this 'deliberate play' to the one we discussed in POTW 9 in the Real Salt Lake versus San Jose Earthquakes game – this was far more of an obvious deliberate play. We asked you for your feedback and the results were:
Deflection = 81.7%
Deliberate play = 18.3%
In view of the overwhelming response we decided to take a closer look at this play again and discuss it with our referees at our training camp. PRO is now of the opinion that it was a deflection not a deliberate play, and we thank you for your input.
I am always guilty of, if in doubt then give onside not offside, but in cases of gaining an advantage it should really be a more obvious deliberate play, so if in doubt then referees should really call it as a deflection.