Play of the Week 9: Offside – Gaining an Advantage in RSL v SJ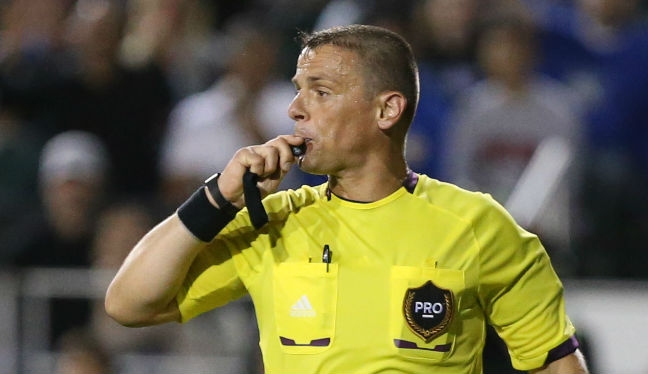 By PRO Training & Development Manager Paul Rejer
There is no question that Play of the Week features offside a lot more than any other subject, even more so since the new interpretation started in the 2014/15 season internationally and in 2015 for North America.
Click here to look at the FIFA 2014 amendments to the Laws of the Game regarding offside
The extract from the amendments which is pertinent to this week's play is:
'Gaining an advantage by being in that position' means playing a ball that rebounds, is deflected or is played to the player from a deliberate save by an opponent having been in an offside position.
A player in an offside position receiving the ball from an opponent, who deliberately plays the ball (except from a deliberate save), is not considered to have gained an advantage.
At PRO's preseason camp in January we discussed a number of incidents that were potential 'gaining an advantage' situations and we had to decide whether the ball was:
1. Deliberately played
Or
2. Rebounded or deflected
This led to a lot of debate, hence why this subject is covered so frequently on Play of the Week, as the new clarification is so subjective and open to interpretation.
Under the old law the defender had to clearly have the ball under control and it was obvious it was a deliberate play.
Now, we are told by the International FA Board that if the defender makes a movement towards the ball, even if the ball does not go where it's intended to, then that is regarded as a play, albeit a bad play.
In most cases, whether you believe it is a deliberate play or not can depend on what team you follow. Obviously that wasn't a consideration in our preseason camp, yet we still had lively discussions.
This new interpretation was also covered at the preseason club visits and PRO went through various examples with the players. It is fair to say that a number of the players and coaches were not in agreement with this interpretation but realized that law is law and we have to abide by it whether we like it or not.
The play we are specifically referring to this is from the Real Salt Lake versus San Jose Earthquakes game (18:45).
Initially, San Jose's Shea Salinas plays the ball forward. The first consideration is: Does Salt Lake's Jamison Olave deliberately play the ball or has it deflected off him?
The second consideration is: Does Kyle Beckerman then deliberately play the ball or does it deflect off him?
Whether it has been played or deflected off either player, the ball goes to Chris Wondolowski who is clearly in an offside position when slots the ball home.
Remember, according to law, if it has taken a deflection Wondolowski is declared offside, but if it is a deliberate play by either player he is onside.
We have instructed our referees and ARs in these cases to have dialogue with each other and that is exactly what referee Sorin Stoica and AR Anthony Vasoli do.
Vasoli stands his ground and does not commit himself to either an offside flag or movement up field and waits to receive vital information from Stoica.
He knows that the goal scorer was in an offside position and transmits this information to Stoica. As soon as the referee informs him that in his opinion it was a deliberate play he makes his move towards the half way line.
This is a good example of good officiating with effective communication between the referee and his AR, and that is the most important element to this play.
These plays are often described as 'jigsaw situations', where the AR from his position has one piece of the information – the fact that the player is in an offside position. The referee, from his position, has the other piece of the jigsaw – deliberate play or deflection.
When you have seen this play, I would like you to let me know what your call is. Is this a deflection off either Olave or Beckerman?
At PRO we believe that it is unclear whether Olave played the ball or whether it was deflected. The referee at ground level would have more of an idea, but it is definitely deliberately played by Beckerman. So the decision was onside and, therefore, a good goal.
I am sure you will agree it is a very difficult decision to make either way but I look forward to receiving your opinions. Send them to me on Twitter via @PROreferees or click here to send me them by email.