Play of the Week 8: DOGSO and Playing Advantage in HOU v SKC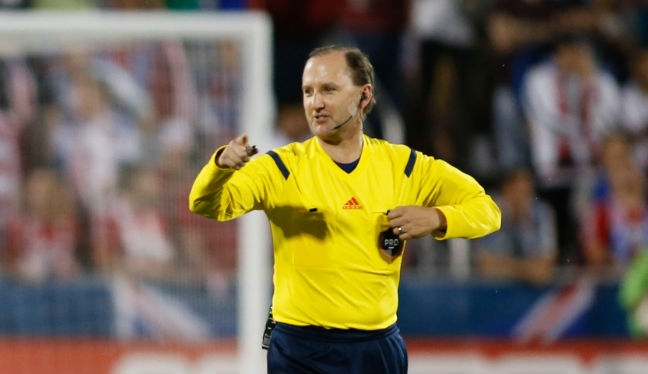 By PRO Training & Development Manager Paul Rejer
In this week's POTW we discuss playing advantage from a DOGSO (denying an obvious goal scoring opportunity) situation.
The incident happened at 74th minute of the Houston Dynamo versus Sporting Kansas City game.
The play starts when Dynamo's Giles Barnes attempts to play the ball back to his goalkeeper, Tyler Deric. Sporting KC's Dom Dwyer, who is in an offside position, is played onside by Barnes' deliberate back pass and assistant referee Apolinar Mariscal is alert to this, correctly keeping his flag down.
Dwyer intercepts the ball and is presented with an obvious goal scoring opportunity with only the goalkeeper to beat. As he takes the ball around Deric, the keeper brings down Dwyer in a clear act of DOGSO. However, the referee Kevin Stott can see Dwyer getting up from the ground and decides to play advantage. The striker then scores Sporting's second goal.
We have been asked the question: Should the referee still send off Tyler Deric or issue him with a yellow card? The Laws of the Game say:
'If the referee applies advantage during an obvious goal scoring opportunity and a goal is scored directly, despite the opponent's handling of the ball or fouling an opponent, the player cannot be sent off but he may still be cautioned.' 
Therefore, Kevin Stott correctly does not send off Deric but has the option to caution him – this would be based on the seriousness of the challenge and if the referee deemed it to be a reckless challenge. In this case Stott decides that it is a careless challenge and so he does not issue the yellow card.
The Laws of the Game also cover playing advantage when a red card offense has occurred.
'If the infringement warrants an expulsion, the referee must stop play and send off the player unless there is a subsequent opportunity to score a goal.'
This play above is exactly how the Law should be applied in these circumstances.
The actions of Dom Dwyer and Kevin Stott in this play actually save keeper Tyler Deric from being sent off. If Dwyer had stayed on the ground Deric would have been sent off in a clear act of DOGSO but his honesty and goal scorer's instinct in continuing to play, together with Stott not stopping the game too quickly by allowing the advantage to proceed, jointly allowed a good goal and prevented an unnecessary red card.