2014 MLS Cup Playoffs – Play of the Week 2: Ball in and out of play in DC v NY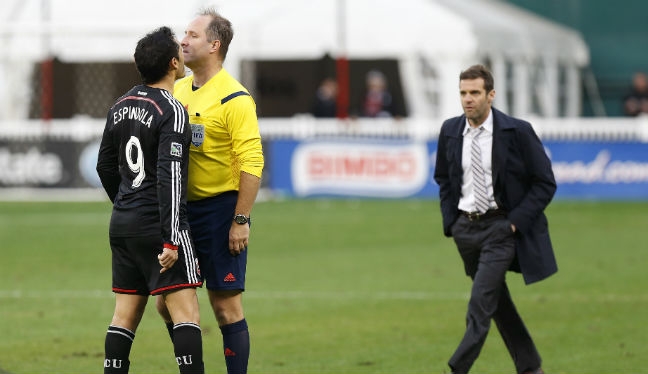 The second Play of the Week of the 2014 MLS Cup Playoffs looks at Law 9 – ball in and out of play.
PRO Training & Development Manager Paul Rejer uses an example from the D.C. United versus New York Red Bulls game.
The Law says:
The ball is out of play when:
– It has wholly crossed the goal line or touch line whether on the ground or in the air
– Play has been stopped by the referee
Rejer said: "In this particular play, Red Bulls' Lloyd Sam controls the ball on the touch line and, despite D.C.'s appeals, AR George Gansner decides that the ball did not go out of play. Play continues and, 20 seconds later, Thierry Henry crosses the ball into the penalty area for Peguy Luyindula to score the vital away goal. This effectively won the series for them and killed off any D.C. hopes of progressing further in the Playoffs.
"If we have a look at the diagram in FIFA's Laws of the Game, it clearly illustrates and confirms the law narrative that the ball has to 'wholly' cross the line. This means that if any part of the ball is touching the line or, from an aerial view, the curvature of the ball is overlapping the line with the ball not physically touching the line, the ball is regarded as being in play.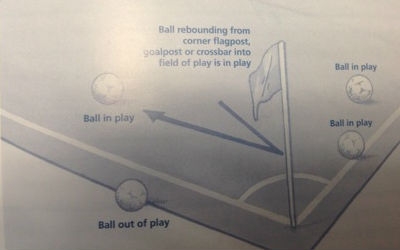 "If we look at this still frame of the call, you will see that the ball did not wholly cross the line and this was a very accurate correct call from George Gansner.
"United's Fabian Espindola is incensed as he believes the ball was out of play and the AR had erred. He shows dissent to Gansner and is correctly cautioned by referee Ismail Elfath, supporting his colleague. As Espindola is convinced that Gansner was wrong, at the conclusion of the game he approaches the AR in an unacceptable manner and is correctly shown a straight red card by Elfath.
"This play highlights the importance of ARs not anticipating the ball crossing the line and raising the flag prematurely before the ball has wholly crossed the line. For the whole of the ball to have crossed the line from an aerial view it will be some distance from the line with clear daylight from a side on view.
"This was a perfect example of superb and accurate judgment, showing restraint and coolness under pressure by George Gansner."