Play of the Week 20: Serious foul play in RSL vs. MTL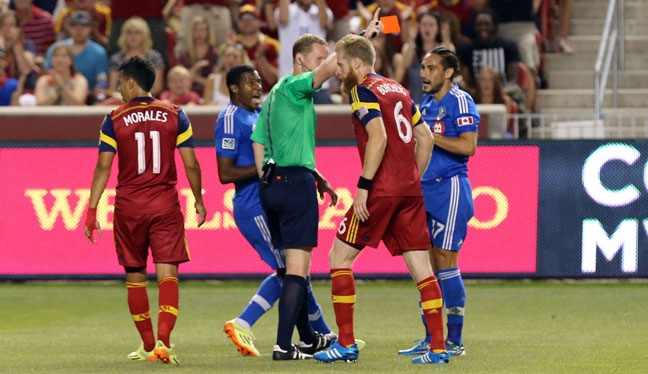 PRO Training & Development Manager Paul Rejer looks at serious foul play from Real Salt Lake versus Montreal Impact in Play of the Week 20.
Serious foul play is another of this season's initiatives outlined by PRO and MLS and two others – time wasting and holding in the penalty area – have been covered in Play of the Week over the last two weeks.
Rejer said: "During last Thursday's Real Salt Lake versus Montreal Impact game, referee Drew Fischer was faced with a challenge when Montreal's Issey Nakajima-Farran committed a foul on RSL's Chris Schuler.
"Fischer would have had to process the information by seeing/recognizing then thinking/considering, before acting given the list of considerations below:
1. Does the player have a chance of playing the ball in a fair manner?
2. Does the player show clear malice when making the challenge?
3. What degree of speed or intensity is the player using when making the challenge? Distance travelled?
4. Is the player making the challenge off the ground/airborne and is he in control of his actions?
5. What was the direction of the tackler's feet?
6. Did the player use his studs when making the tackle?
7. Does the challenge clearly endanger the safety of the opponent?
8. Do you consider the challenge as serious foul play/violent conduct?
"Referee Fischer would process this information very quickly due to his instincts and refereeing experience.
"Players have to know that they cannot indulge in this type of challenge as one of the referees' main responsibilities is to protect players from unfair play.
"Brutal actions involving excessive force, endangering the safety of an opponent, must always result in a red card."