Play of the Week 13: Six second rule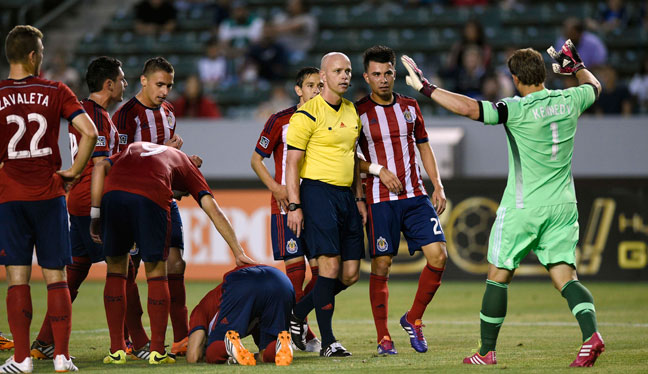 PRO Training & Development Manager Paul Rejer looks at the six second rule in Play of the Week 13.
The example Rejer uses is from the recent Chivas USA vs. Philadelphia Union clash at the StubHub Center.
The six second rule is one of this season's initiatives from the Professional Referee Organization and MLS.
Rejer said: "Chivas goalkeeper Dan Kennedy has control of the ball at 25:34 and the referee, Allen Chapman penalizes at 25:46, a total of 12 seconds.
"MLS players were all warned about the six second rule prior to the season and so far, in general, 'keepers have complied with the laws of the game which, as a reminder, say:
"The goalkeeper is not permitted to keep control of the ball in his hands for more than six seconds. A goalkeeper is considered to be in control of the ball…
– While the ball is between his hands or any surface (e.g. ground, own body)
– While holding the ball in his outstretched open hand
– While in the act of bouncing it on the ground or tossing it in the air
"Every week I receive messages from MLS fans that follow the Play of the Week series and this week I am expecting fans to provide me with examples of when a goalkeeper has held the ball for more than six seconds, and referees have allowed them to get away with it.
"Chivas fans will no doubt be aggrieved but referee Allen Chapman cannot be criticized for applying law correctly and complying with this season's initiatives.
"It's the referees that do not apply law that are incorrect and they are dealt with on an individual basis. We expect referees to be consistent and apply law.
"The only other case I can recall when a 'keeper was penalized was in the preseason game between Philadelphia Union and New York Red Bulls, when Luis Robles was penalized by referee Chris Penso.
"In both cases, the goalkeepers were punished severely by conceding goals. That should provide motivation for other goalkeepers not to take a risk by breaking the six second rule."