Play of the Week 10 Extra: Law 11 – Offside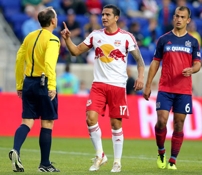 May 15, 2014
In a special Play of the Week Extra, Paul Rejer discusses one aspect of Law 11: Offside – Interfering with an Opponent.
PRO's Training & Development Manager said: "If we remind ourselves of the guidelines in FIFA Laws of the Game; 'Interfering with an Opponent means preventing an opponent from playing or being able to play the ball by clearly obstructing the opponent's line of vision or challenging an opponent for the ball'.
"In the Philadelphia Union vs. DC United MLS game last weekend, in the fifth minute there are two DC players – Eddie Johnson and Lewis Neal – in offside positions as the ball is shot at goal by Chris Rolfe.
"The match officials have two considerations:
1. Are the players clearly obstructing the goalkeeper's line of vision? You can see that they are to the left of keeper Zac McMath, who can clearly see the ball, so no.
2. Are they challenging the opponent for the ball? You can see that they are not making a challenge, so again no.
"AR Gregory Barkey realizes that the players are not obstructing the keeper's line of vision or making a challenge for the ball. His only concern is, does the ball actually touch one of the players?
"If it had, he would have been offside, but Lewis Neal actually took evasive action.
"He sensibly and correctly uses the communication kit to good effect to ask referee Geoff Gamble, who confirms that it didn't. Valid goal – excellent teamwork.
"In the third minute of the New York Red Bulls vs. Chicago Fire game, Mike Magee is in an offside position but it is clear that he is not obstructing the keeper's line of vision.
"The next consideration is whether he is challenging Luis Robles for the ball and in law it does not specify exactly how close the players have to be to constitute a challenge.
"However, in this play, Magee is too far away to be considered as challenging Robles.
"AR Brian Poeschel, anticipating the forward playing the ball, raises his flag only to be overruled by referee Kevin Stott. This is terrific refereeing by Stott as quite often referees do not consider offside and blindly accept the AR's flag.
"The Law for this was changed last year. It used to say that a player is offside if he 'deceives or distracts' an opponent.
"In this play there is no doubt that Mike Magee clearly distracts Robles but unfortunately for Robles that is not a consideration any more.
"Two correctly awarded goals with the match officials interpreting the Laws of the Game perfectly."