Play of the Week 8: Offside in CLB vs. NY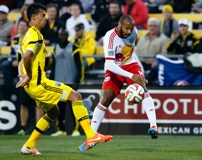 Apr 30, 2014
This week's Play of the Week features an offside scenario in the Columbus Crew vs. New York Red Bulls game.
PRO's Training & Development Manager Paul Rejer said: "In this play the ball is played forward and Red Bulls striker Thierry Henry, aware he is in an offside position, signals he does not want to be involved by raising his arms.
"However, the ball hits his back and unintentionally this makes him active, meaning he should have been declared offside.
"This is a very unusual situation as it's not often players actually declare that they are offside. This, in my opinion, causes the AR Gianni Facchini and the referee Geoff Gamble to discount Henry from their thoughts.
"Another interesting aspect is that the ball does not change direction at all by the contact with Henry, which compounds the problem.
"In previous Play of the Week editions I have mentioned the benefits and importance of teamwork and effective communication to the match officials, and there is certainly a case for that here.
"The AR should continue to focus on the player who was in an offside position at the moment the ball is played by a teammate – even if they subsequently declare themselves as not part of the play.
"At the point where the ball hits the offside player, the flag should have been raised, however if the AR is unsure, which is totally plausible due to the ball not deviating, then he should ask the referee if the ball did in fact hit the offside player.
"The referee certainly has an equal responsibility here and could have even taken the initiative, particularly as he could see that Henry had publicly acknowledged that he was offside and was in closer proximity to him than the AR.
"If the referee was also unsure regarding contact, that would again be understandable but at least they would have given themselves a chance by engaging in dialogue.
"Errors often occur due to lack of communication."