Play of the Week 7: DOGSO in CLB vs. DC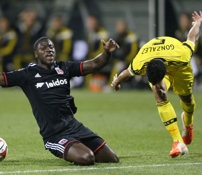 Apr 22, 2014
PRO's Paul Rejer again looks at Denial of an Obvious Goal Scoring Opportunity (DOGSO) in the latest Play of the Week.
This week's incident is from the match at Columbus Crew Stadium between Columbus Crew and DC United, which ended 1-1.
Training & Development Manager Rejer said: "In Play of the Week 4 and 5 we discussed DOGSO and last week we discussed the teamwork between officials.
"I make no apologies for covering the subject again in week 7 as I aim to reinforce the message.
"In the game between Columbus Crew and DC United, DC's Eddie Johnson is brought down just outside the penalty area by Giancarlo Gonzalez of Crew.
"I again repeat the criteria of the consideration of DOGSO;
The direction of the play – Eddie Johnson is moving towards goal
The distance between the offense and the goal – It takes place on the edge of penalty area
The likelihood of the player keeping or gaining control of the ball – He is in full control
Proximity of both the attacker and defender to the ball – Johnson has the ball at his feet and Gonzalez is behind him
The location and number of defenders – There's one other defender but he is too far away to prevent the Obvious Goal Scoring Opportunity
The opportunity for an obvious attempt on goal – It's obvious as all of the above criteria applies
"I do not intend to look for reasons why referee Juan Guzman only issued a yellow card for this clear DOGSO offense – he is responsible and all of the post-match talk is about him.
"But, what I will say is, if you recall last week's Play of the Week, all the members of his crew have a responsibility to inform him that this is DOGSO, especially when it is this clear. Guzman consulted with AR Mark Cahen but still failed to take the correct action.
"A DOGSO that meets all of the above criteria should be dealt with swiftly and positively to avoid any potential confrontation and all of the officiating crew have a collective responsibility to ensure the Laws of the Game are applied."