Play of the Week 4: DOGSO
Apr 2, 2014
This week's Play of the Week considers four examples where Denial of an Obvious Goal Scoring Opportunity (DOGSO) would have been considered by the referees.
Only one out of the four incidents actually resulted in a red card.
The criteria for deciding when to penalize for denying an obvious goal scoring opportunity are:
The direction of the play
The distance between the offence and the goal
The likelihood of the player keeping or gaining control of the ball
Proximity of both the attacker and defender to the ball
The location and number of defenders
The opportunity for an obvious attempt on goal
PRO Training & Development Manager Paul Rejer explained: "In in the Philadelphia Union vs. Montreal Impact game, Hassoun Camara of Montreal pulls back Jack McInerney of Philadelphia, causing him to fall and lose possession of the ball.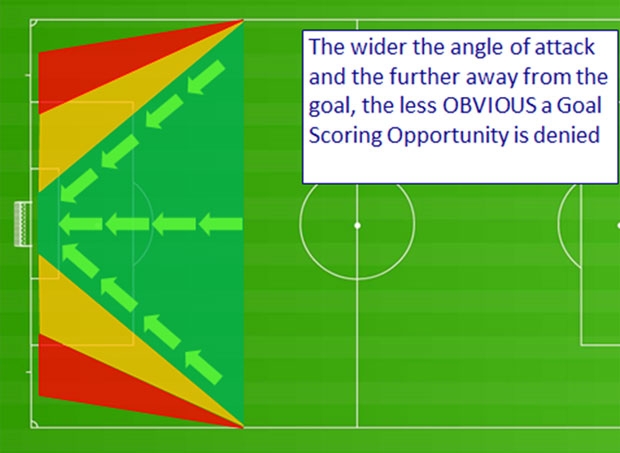 "If you read the criteria that the referee Edvin Jurisevic has to consider, the one that would put doubt in his mind would be the location and number of defenders. Although McInerney is moving towards goal he is in a wide position and also there is a chance that a defender can intervene. Therefore it is not an obvious denial.
"In the Colorado Rapids vs. Sporting Kansas City game, Vicente Sanchez of Colorado is on the ground challenging for the ball with SKC keeper Eric Kronberg. Referee Jose Carlos Rivero eventually awards a free-kick to Colorado, however he does not consider DOGSO, due to Sanchez not having control of the ball. It was not an obvious denial.
"In the DC United vs. Chicago game, Eddie Johnson of DC is pushed in the back by Greg Cochrane of Chicago just outside the penalty area in a promising attacking move, which causes Johnson to fall and lose possession of the ball. Referee, Jair Marrufo can see that the direction of play was not towards the goal and there was a chance of a covering defender intercepting. It was therefore not an obvious denial.
"Finally, in the game between Seattle Sounders and Columbus Crew, referee Allen Chapman correctly sent off Djimi Traore of Seattle for committing a foul tackle from behind on Dominic Oduro of Columbus. This meets all the criteria of a DOGSO.
"Direction – he is in front of goal. Distance – he is near to the goal. Likelihood of control and proximity of ball – he is lining up to have a clear shot on goal. Location of defenders – all defenders are behind him. This constitutes an obvious attempt on goal.
"A misconception in soccer is the 'last man' syndrome. We hear this continually, however the Laws of the Game do not make reference to the 'last man', it only mentions the criteria that I have listed above and all of the considerations listed have to be adhered to.
"The law doesn't say possible or probable, the most important word in this aspect of law is obvious and if the referee has any doubts as to whether all of the criteria applies, he will not send off a player for DOGSO."