Play of the Week 2: AR call at SJ vs. RSL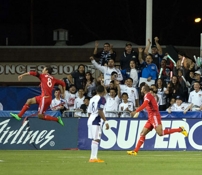 Mar 19, 2014
This week's Play of the Week looks at San Jose's early goal against Real Salt Lake at the Buck Shaw Stadium.
PRO Training & Development Manager Paul Rejer talks about the difficulties ARs face when making offside judgments.
Rejer said: "Unfortunately, an offside goal was allowed to stand but what can we learn from it?
"When the free kick is initially played into the penalty area by Shea Salinas, Chris Wondolowski is in an onside position.
"The ball is then headed on by Victor Bernardez, with Wondolowski in an offside position – unfortunately from the AR's position it is extremely difficult for him to see the contact with Bernardez's head clearly.
"ARs should always be considering the potential of another player touching the ball when it is delivered into the penalty area and be aware of players in offside positions at that exact moment, having that picture in their mind.
"This is where the communication system should be utilized to good effect. If you are an AR officiating without the comms system then call the referee over and ask the referee the question, 'has the forward played the ball?'
"Knowing that if the referee confirms contact with the player's head, then Wondolowski has to be offside.
"The referee has a responsibility to be aware of events that take place inside the penalty area and know the potential of an offside offense at all times, being ready for the AR to ask the question.
"We call it a jigsaw situation, when the AR has certain information, and the referee has other information. Put both pieces of information together and we have the full picture.
"It's not easy but at least by showing more awareness and engaging in dialogue the correct decision can be made."
Sharing information – collective responsibility