Play of the week: SEA vs LA
This week's Play of the week focuses on the Omar Gonzalez header that was not awarded as a goal in the match between Seattle Sounders and LA Galaxy.
PRO Training & Development Manager Paul Rejer explained: "Of course, these decisions are so easy when we look at the clip from an elevated camera position, particularly in slow motion and freeze frame.
"However, they are not so easy in real time and at ground level if you consider the speed of the ball entering and leaving the goal.
"The ball is actually only over the line for a split second, so it is vitally important that ARs are on the goal line to have any realistic chance of seeing whether the ball has wholly crossed the line for that split second.
"From his natural position for a corner, the referee, Mark Geiger, doesn't have a chance of seeing if the ball is over the line, so it becomes the responsibility of the AR, Gregory Barkey.
"When you first view this incident it is natural to assume that the AR should be on the goal line as there has been a corner kick and there is a defender on the goal line that ends up clearing the ball from behind the line.
"However, on further examination, you can see that Sounders keeper Michael Gspurning has moved off his line and becomes the second last defender, therefore, the AR has to move level with him. So, in fact, when Gonzalez heads the ball, the AR is two yards from the goal line, which is not the optimum starting position.
"Gregory Barkey moves quickly in an attempt to reach the goal line when the ball is headed and gets close but is not exactly on the goal line. From the angle he is at, he has the post in his line of vision to the ball and it would have been difficult to see 'daylight' between the post and the ball.
"We advise ARs never to guess in these goal line situations. They can only act on what they see. We say, if you have seen the whole of the ball over the goal line then signal the goal. If you haven't, don't guess something that may not have happened.
"In this play, it was a simple case of him not being sure from a position that was not optimum. In an ideal world it would have been fantastic if he had seen it and the goal had been awarded. However, this call is not as easy and straightforward as it seems."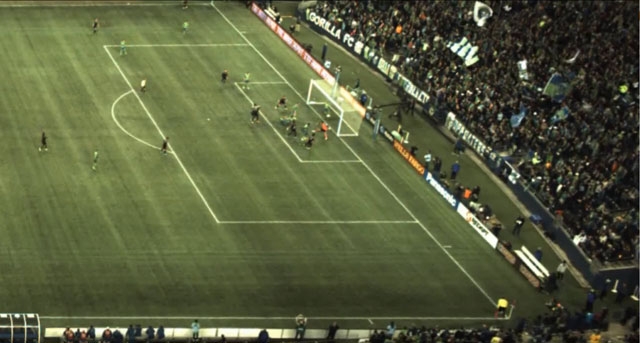 ​