PRO crew confirmed for 2020 MLS Cup
Jair Marrufo will referee his third MLS Cup Final when Columbus Crew take on defending champions Seattle Sounders for the 2020 title on Saturday, December 12 (8:30PM ET) at MAPFRE Stadium.
His assistants for the final have both won the MLS Assistant Referee of the Year award – Corey Parker in 2015 and Kathryn Nesbitt in 2020. Alex Chilowicz will be the fourth official, with Drew Fischer and Fabio Tovar working in the VAR booth.
Marrufo most recently refereed the MLS Cup in 2015 when current Crew head coach Caleb Porter was victorious with Portland Timbers at MAPFRE Stadium. His first final was in 2006 when Houston Dynamo beat New England Revolution on penalties, just months before the Texan official was appointed to the FIFA panel.
Now one of PRO's longest-serving officials, Marrufo has refereed 274 regular-season games in 19 years as an MLS official.
This season saw Marrufo shortlisted for the MLS Referee of the Year award, having previously received the honor in 2008, a year when he also refereed at the Olympic Games in Beijing. Other significant international assignments have included five Concacaf Gold Cups, the 2016 Copa America, the 2018 FIFA World Cup, the 2018 FIFA Club World Cup Final and the second leg of the 2019 Concacaf Champions League Final.
Assistant referees Parker and Nesbitt also have plenty of international experience after joining the FIFA panel in 2015 and 2016, respectively. Both officials flagged 18 regular-season matches this year.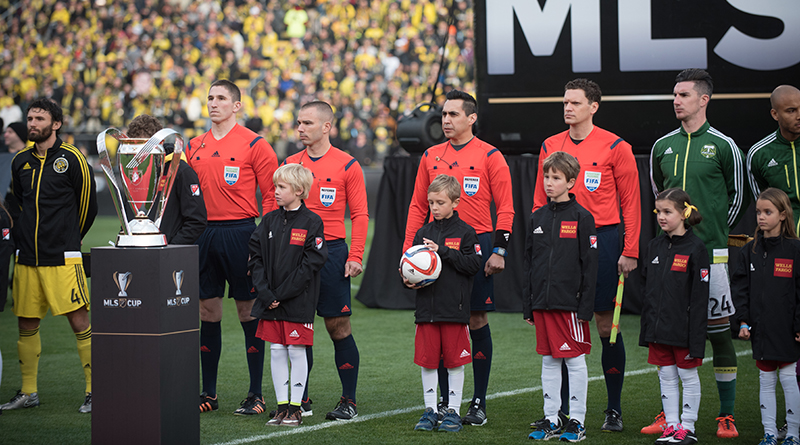 Saturday's assignment is Parker's second MLS Cup after working with Marrufo on the showpiece game five years ago. MLS AR of the Year Nesbitt becomes the first woman to officiate an MLS Cup Final, building on her achievement of running the line at the conclusion of MLS is Back Tournament in August. Cory Richardson has been selected as the reserve assistant referee having also been nominated in this year's MLS awards.
After being involved in 26 regular-season matches this year, Chilowicz has been assigned the fourth official role. Two-time MLS All-Star official Fischer, who was a VAR at the 2019 FIFA Women's World Cup, will work alongside Tovar, who did 21 games as AVAR in 2020.
To reach this stage, Columbus saw off eighth-seed New England Revolution 1-0 at home in the Eastern Conference Final, before Seattle Sounders came back from 2-0 down to defeat Minnesota United and claim the Western Conference title at Lumen Field, a day later.
Columbus Crew vs Seattle Sounders
MAPFRE Stadium (8:30PM ET)
REF: Jair Marrufo
AR1: Corey Parker
AR2: Kathryn Nesbitt
4TH: Alex Chilowicz
VAR: Drew Fischer
AVAR: Fabio Tovar
RAR: Cory Richardson
---
Please click here to see all the previous MLS Cup crews
---