Tori Penso: "I'm standing on the shoulders of giants"
Tori Penso made her MLS debut in the center on Wednesday night, leading out Nashville and D.C. United to become the first woman to whistle a top-flight US men's soccer game in two decades, an achievement that she has dedicated to the trailblazers before her.
Following in the footsteps of Kari Seitz, Nancy Lay, and the last woman who centered an MLS game in 2000, Sandy Hunt, Penso has paid tribute to the icons who inspired her.
In May, the mother of three explained to proreferees.com how her journey began and what aspiring officials can do to help themselves reach the top.
Read more: Be the role you aspire to be
Having returned home from the Nissan Stadium after her latest career-high, we caught up with Penso on Thursday afternoon to reflect on not only a personal milestone but a moment in history.
When did you learn of the assignment and how hard was it keeping the news under wraps?
I had a 10-day notice, and it was a whirlwind. I was over the moon and wanted to take to the field that day. The first few nights I didn't sleep much because all the details were rolling through my head every night; I wanted to make sure I was prepared and ready. There was a purpose and intensity to my training, something at the end of it that was visible and tangible, so there was a different feeling to it.
You need enough time to do your game prep, but not too much to overthink things, so how do you balance that in your mind, given this has been your dream for a long time?
The news had leaked and I started getting congratulatory messages a few days out; I had people reach out to me who I hadn't spoken to in 10 years. The weight of expectation was heavy, but to me, it wasn't official because I still had to pass several days of COVID-19 testing. There was still a doubt in my mind that something could happen; my children are at school so there's an element of risk. I was excited but very cautious, and for anyone who asked me, I neither confirmed nor denied. I just kept it really simple.
How did you cope with the anticipation?
Mark Geiger [PRO's Director of Senior Match Officials] sent me a lovely note, telling me to just be myself, which is one thing only I can do! That helped alleviate some of that pressure. I kept saying to myself, 'it's a game, there are four lines and we're going to deal with everything inside as best we can.' In the past, Chris [Penso, Tori's husband] has always challenged me in all the right ways, as I have tried to do for him. When I didn't think I could make it, he was there to say I could, and his encouragement undoubtedly kept me going.
I produced solid performances consistently, and that's what got me that appointment. It wasn't that I was female, but the quality of my work, which is kudos to the leadership team at PRO, who don't see gender as an obstacle.
The game had everything, including a cameo performance from the sprinkler system…
Yes it did [laughs]. That worked out alright because it allowed me to relax into it and chat with the players while we waited. We made some jokes during that time, which provided me with some humility. I didn't know how long it would take to get them fixed, so I was asking for updates [from Robert Sibiga, fourth official] so I could communicate to the players if it was going to be a couple of minutes or a longer issue, but the off-field team did a good job in negating it quickly and we got on with the game.
Unlike before the pandemic, you now travel on game day so before you know it, you are leading the teams out onto the field. Is there a moment in the hustle when the occasion hits you?
It was all game face – a 100 percent focus on the task at hand, making sure that we did a good job on the pitch and did the game a service. It was tough as I was getting so many messages; I turned my phone off so it wasn't a distraction. I thoroughly prepared pre-game, did the game, and when I came back and walked into the locker room, I couldn't stop the tears from streaking down my face. It was very genuine, as it's been my dream for some time; I didn't know if it would ever come to fruition, but it did, and we did a good job.
Patrick, the referee liaison, gave me the game ball at the end, which I didn't expect so that was a privilege and an honor to receive that.
You're back at home now – what was the first thing you did when you walked through the door?
My mom was at home watching the children, and she came running over, banging on the window when I arrived. She was excited, but the kids were at school so I didn't get the warm, welcoming hug that I usually get. Chris was also on a game and he waited for me at the airport, which I wasn't expecting, so we caught up and got to ride home together, which was nice as we don't usually get to do that.
When you left Utah after the NWSL Challenge Cup, having been the fourth official on the final, did you have any goals for the rest of the year given the season's uncertainty?
I had goals at the start of the year, such as having the opportunity to do a center in MLS, and it all changed to being about survival and taking advantage of any opportunity I might get. This year has been unique for everyone in every capacity, so I had to be flexible to that, and all I could control was my performances on the field, so I focused all my energy there and made sure I was as prepared as I possibly could be for every match. I produced solid performances consistently, and that's what got me that appointment. It wasn't that I was female, but the quality of my work, which is kudos to the leadership team at PRO, who don't see gender as an obstacle.
As a result of those performances, many see you as an inspiration, even more so than they already did. How do you manage that expectation?
Girls I had mentored were reaching out to say, 'you said you'd do it', so that was really special, as well as hearing from people I have looked up to my whole life. Nancy Lay mentored me when I was Grade 8 and coming up, she tuned in to watch the game which was amazing.
Before we can look ahead from moments like this, we have to pay tribute to those who came before us: Kari Seitz, Nancy, and Sandy Hunt, as well as those who didn't have the opportunity but aspired to. They all made ground for all of us and this is a big tribute to those women who worked so hard. I'm standing on the shoulders of giants who paved the way a long time ago.
Before you took to the field, had you contacted any of those officials for advice?
Nancy doesn't live too far from me and I reached out to speak to her in the week leading up to the game. Kari does so much behind the scenes; at national camp she stands at the front of the room and looks to the back to address everyone with the message there needs to be female referees in the MLS. I'll never forget it; she challenges people in public, and I'm sure in private, to achieve that.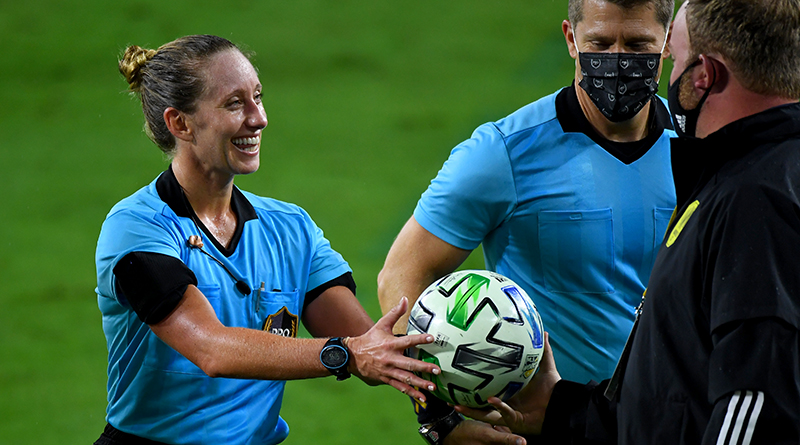 So, with the game done and dusted and the game ball in your possession as a memento, what is the next goal?
I hope this is something that everyone can celebrate, and hopefully, we can move past and normalize it. Now that I'm here, I would like to thank everyone: every little girl I've spoken to who says that I'm their inspiration; they are mine, and my girls at home who are my why.
I don't want to be one and done, but to have consistent performances that keep me here every year. I want to be the first female member of the senior group; the physical challenges of passing the men's fitness test every year are significant, but I'm up for the challenge.