Fotis Bazakos leads PRO officials in making Sam's day
Sam Cottington was at his high school graduation – a ceremony that, amidst coronavirus, saw families stay in their parked cars with the event itself broadcast over the PA system.
It was a day destined to be a bit different, but one that would live long in the memory. For this particular young man, the way it played out was better than he could have envisioned.
"I knew something was probably up," he said. "I knew there was going to be a photo opportunity at the end, but I wasn't expecting a gift from my teacher, Matt Fricke, so it was a surprise when he handed me a bag."
Inside the packet was not any ordinary item that you can find in the mall, nor was it a gift from his teacher, but a surprise present from MLS referee Fotis Bazakos and his fellow PRO officials.
"It was a clear bag and I immediately saw the PRO badge," continued Cottington, a young referee himself. "My face was just like, 'oh my gosh!'
"The jersey is probably the best graduation gift; it was a complete shock. My dad watches soccer because I watch it, so he knows the referees. I pulled it out and I was reading the names, and he immediately started pointing and calling them out as well."
The signed PRO jersey has a home on Sam's wall, the many PRO pin badges that were also in the bag are set to be distributed to his friends once they can return to the field.
Formerly a player, his love for soccer was reignited after the 2014 FIFA World Cup, first picking up the whistle four years later after encouragement from his parents, and following in the footsteps of fellow Minnesotan Bazakos.
"Fotis was going to come in to speak about leadership and his time refereeing," explained Cottington, looking back to when he had been informed a special guest would be visiting the high school. "Then, COVID-19 hit, and we had to move things online."
Since then, Bazakos has quickly become an influential mentor – a unique relationship in the youngster's refereeing development, but just one of the many supportive friendships that have bloomed from PRO referees looking out for the next generation of soccer officials.
"I have been teaching Sam since he was a seventh-grader, and the only direction I gave beforehand was to do a little bit of research and make a list of questions that you want to ask him," said Fricke, who set up the online meeting with Bazakos.
"He shared the list with me and I was blown away by how in-depth it was. At that point, I said I wasn't going to say anything during this interview, and we could see if this was something we'd use in class or whether it was something just for Sam in the end.
"If Fotis came into the classroom, it would have been a whole different talk. But for me, as a teacher, to sit back and watch was an absolute pleasure."
Sam's reaction was more than I had anticipated. I knew he was going to like it, but I didn't expect that level of sheer jubilation.

Matt Fricke
With PRO officials fulfilling their duty to the game on and off the field, Cottington and many other up and coming referees now have professional role models that they can not only aspire towards but use as a professional backboard for questions and feedback.
"He [Bazakos] explained a lot about using your personality type," Cottington added. "He did talk a lot about how standing up, making the right call, and not giving away under the pressure of people saying it was a bad call.
"For the size of our state, the Minnesota referee committee and soccer community has so many talented and experienced mentors and referees; I feel like I am part of a special community.
"I did the USA Cup, which is a big youth tournament and I met referees from all over the world, making friends with people from China and England.
"Refereeing is a bug. It takes a special type of person to be a referee, but it is fun being out there. Sometimes not everyone is going to agree with you, but it's enjoyable to be out on the field, helping the game."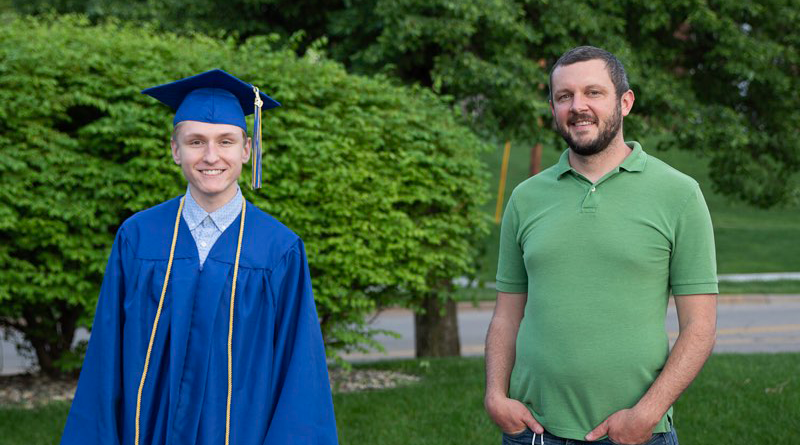 Even though he has taken inspiration from the PRO ranks, the teenager who plans to Major in Political Science or History is learning about his own officiating style and how those abilities and his skills in everyday life can complement each other.
"I've been part of the student council and we did a lot around using your personality. I've noticed how useful that is in also talking to people and being a leader outside refereeing.
"I like to make jokes and I find that a good tool to calm down situations. Not having everybody on your side and understanding how to deal with being the bad guy, learning how to walk that respectfully is something really valuable, too.
"There are a lot of times in refereeing where you have to look at both sides when making the decision. The thought processes in refereeing overall, when closing opinions and how much gray area there is, are things that help you away from refereeing."
Fricke also understands the officiating life himself, having been an umpire in baseball. But he didn't anticipate the impact Bazakos was going to make in the high school farewell.
"It was perfect timing because I got the jersey the Sunday before the graduation on the Wednesday and I couldn't wait to give it to him," said the teacher.
"Sam's reaction was more than I had anticipated. I knew he was going to like it, but I didn't expect that level of sheer jubilation.
"That's something I've been sharing with my family and friends as good news to try and add a little silver lining to what has been a tough time to be living in Minneapolis.
"I was going to give it to him one way or another. I like sport, but I'm just a messenger, I was never going to keep it for myself!"
I did the USA Cup, which is a big youth tournament and I met referees from all over the world, making friends with people from China and England.

Sam Cottington
This summer, Cottington was set to join Minnesota referees at regional competitions but has been forced to wait another 12 months due to the pandemic.
"I'm just going to keep fit over the summer," he said. "A lot of older referees I work with, their job at college was just refereeing, so I'm going to keep sticking with it, keep refereeing, and I'm going to try and do as high-level games as possible. And now I have [access to] Fotis, I can ask him some questions.
"You are probably not going to find a more diverse job. There are different types of people all over and everyone is there for the game; there's nothing more unifying than a group of referees and officials, all refereeing the game and aiming to get the decisions right.
"We always have a shortage of referees so it will always pay well and there's a lot of strength in it, but this will, of course, aid you outside of soccer. And if you are good at it, US Soccer is doing more pushes for those referees, so there is a lot of room for growth.
"I believe you have a lot more to lose by not refereeing than you do by doing it because it's not an easy job. You're trying your best and gaining skills that help you away from the field, in everyday life."