Nima Saghafi: "Delighted and honored" to earn FIFA badge
With more than 50 MLS refereeing assignments to his name, this was the period – originally scheduled as the first international break of 2020 – when Nima Saghafi had anticipated he would start to clock up his game count for FIFA. The Oklahoma official became the proud owner of a coveted white badge during the offseason – one of five additions to the list from PRO in 2020.
Having already refereed at Concacaf level, the 30-year-old steps up to find himself alongside the game's top officials as part of the international list of FIFA referees. It marks the conclusion of a progressive five-year period with PRO and opens some new doors for the future.
"Collectively we work very hard, on and off the field of play, to strive to be the best we can be on a daily basis," Saghafi said of his fellow PRO officials. "The game is consistently changing and it's an honor to grow alongside my colleagues.
"We all have aspirations and the FIFA badge was an important goal I was focused to achieve.
"My immediate reaction to the news was joy and a sense of gratitude. It's a huge honor for me and I'm very grateful to have been given this opportunity."
Saghafi first linked up with PRO as a fourth official in MLS after Brazil hosted the 2014 FIFA World Cup, working his first games in 2015, before progressing to the center a season later.
By the time France won the competition in Russia four years later, he had already refereed the USL Cup Final, made his MLS refereeing debut in Philadelphia, and was about to become fourth official for MLS All-Star.
"There were many learning points in my first season as a referee in Major League Soccer. My mentality was key; the goal was to find a clear balance between the opportunities that were immediately in front of me and those on the horizon.
"Everything becomes more enjoyable the moment you stop putting pressure on yourself. The work you put in during the week, in training and classroom sessions, prepares you for the weekend. I pride myself on having a high level of work rate and a clear focus going into each appointment.
"My approach has changed over the years; I go into each appointment as if it's my last, which pushes me to leave everything on the field. I then arrive back home, take a day off and self reflect on the improvements that can be made on the next opportunity. The season will play out the way it will, and I can only control what I do; everything happens for a reason."
Read more [from October 2015]: Nima Saghafi thankful for experience across the leagues
After his second season in MLS, Saghafi began to target reaching FIFA level within two years – a goal which he has now achieved.
But first, he was assigned as referee for the Lamar Hunt U.S. Open Cup Final, and then again as fourth official for MLS Cup Final in 2018 – a big finish to mark four full seasons with PRO.
"I am thankful to have been a part of the officiating team for those games. It was a tremendous honor to have been appointed to the Open Cup Final. As a team, we were aware of the importance of this match and the caliber of referees that had done it before. I was humbled by the assignment.
"While ironing my uniforms prior to storing them away for the next season [2019], I was appointed to be a part of the crew for the MLS Cup Final. I did not expect this appointment and I had to look at my phone more than once to make sure."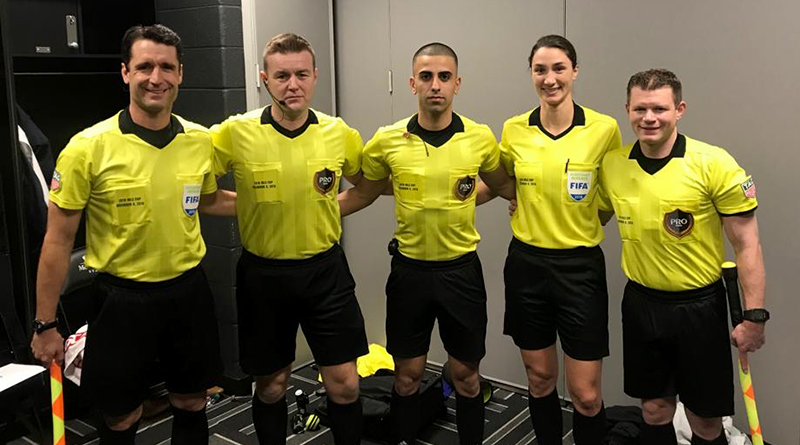 Also that year, Saghafi was nominated for MLS Referee of the Year, recognition which only acted as motivation to keeping advancing. 2019, he believed, was about working even harder "while staying true to what has worked for me so far," and that's what he did, refereeing 25 regular-season games – six more than he'd done in 2018 – and earning another playoff game.
And now, having attained FIFA status, what could be accomplished by the end of the next World Cup in 2022?
"I'm excited to see where this journey takes me. I have high standards and expectations for myself and I aim to reach those. It is so important to maintain a high level of professionalism at all times, from nutrition and training – both mentally and physically to maintain a strong mindset – to being humble.
"Like the players, we have a performance-based role with 90 minutes to execute. I aim to do that with the approach that if I deliver that, another opportunity will come. It's served me well so far and I look forward to a future of continuous improvement for myself and PRO.
"The organization has come a long way in a short space of time, and it's easy to forget that. We couldn't ask for more in terms of the leadership group, both management staff and senior officials. Everyone is very supportive and development focused. That's a big help for all of us who are keen to learn and do better.
"I am beyond thankful to all those who helped me along my journey to grow as a man on and off the field. I am excited to represent the United States and PRO at the FIFA level and continue to progress professionally."
Read more [from October 2017]: Dedication, determination, devotion and desire