Rosendo Mendoza: Reset and ready for 2020
It was a great 2019 for Rosendo Mendoza: first came his MLS debut in the summer, followed by refereeing the NWSL Championship Final, less than two weeks before taking charge of the USL Western Conference Final.
Such significant assignments, while still part of PRO2 – the training tier for officials – could easily go to one's head, but Mendoza has remained firmly grounded – fittingly, having grown up in a city called Humble.
For the 27-year-old – a teacher and soccer coach at the high school he once attended – it's hard to forget where he came from. He often passes the very fields in the Houston metropolitan area of Humble (pronounced 'um-bull'), where he took charge of his first games as a teenager.
"Back when I was a sophomore, I was playing soccer in an affiliated league; a gentleman approached me and simply asked if I wanted to referee in the league," reflected Mendoza. "As a 16-year-old, I was curious as to how it would turn out.
"I'm grateful for the people who helped me along the way and the amount of support we get in South Texas. It was difficult it was for me to start with – dirt pitches, no assistant referees; just me in the middle.
"Now I'm dealing with elite adults, managing the game and making sure that everyone stays safe."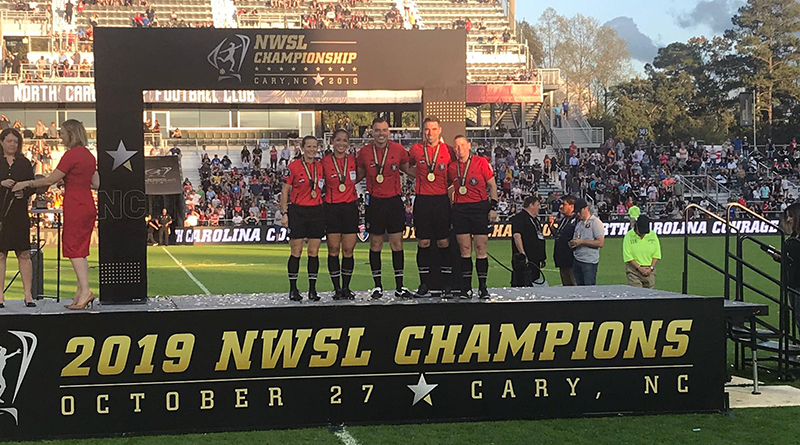 That's not to mention officiating some of the world's best footballers in the women's game. All 23 players from USA's FIFA Women's World Cup-winning squad compete in NWSL.
Therefore, to referee such a final, contested between North Carolina Courage and Chicago Red Stars, was a huge achievement; and one that deserved reflection.
Before heading to North Carolina, Mendoza reached out to the owner of his local league and walked around the pitches on which he started refereeing more than a decade ago.
"I was able to take some time for myself and meditate for a little while on the journey refereeing has taken me on.
"Alex Prus [Director of PRO2 Match Officials] called me to say I'd be receiving the NWSL assignment, and I was incredibly thrilled. To be a referee in any final is an honor, but especially in this league; it's full of talent, and a competition that represents more than just soccer in our country.
"We approached the game like any other; trying to do everything that got us that assignment in the first place – player research, watching film, picking out tactical tendencies so we could adapt our refereeing positions to best suit the game.
"You feel that adrenaline rush at the start, but as soon as you blow that whistle, there could be 100,000 people watching out there and all you're focused on is that 11v11 and all your preparation."
Amid Mendoza's hectic schedule, there was little time to celebrate this personal career landmark.
In a typical week, Mendoza is often up at 4:30am to train, before a day's work in the classroom. On a Friday, he would bring his kitbag to work and head straight to the local airport at the end of the high school day, to catch a flight to his weekend game.
But conveniently, Mendoza knows the two jobs complement one another.
"At the high school, we have something called the 24-hour rule: you have 24 hours to savor the victory and then it's onto the next one.
"Refereeing is about the management of people, and the amount of different personalities you find in the classroom and how you approach each one is very similar to how you gauge different players on the field.
"If you speak to a player in the wrong way for their personality, it could ruin your game. In the classroom, it could ruin the day or even a relationship you have with that particular kid.
"I'm thankful for my teaching job, as it has already translated well into my MLS games."
Mendoza had his first run out as an MLS referee on August 4, as FC Cincinnati hosted Vancouver Whitecaps – the start of a crazy finish to 2019.
"There have been incredible moments in all three of those assignments," he added.
"At the dinner table after the NWSL Final, I told my crew to enjoy these moments, as one day there will be no more games for us to referee, no more flights for us to take, and all that's left is the comradery and friendship we've built.
"But hopefully we are going to look back at this time 20 years from now and still be involved in the game and be incredibly proud that the MLS has become one of the leading leagues in the world.
"I know that can come across bold, but if we are not making those kinds of statements, we are not believing in the work we are doing."