Play of the Week 12: Fourth officials' preparation/Wait and see technique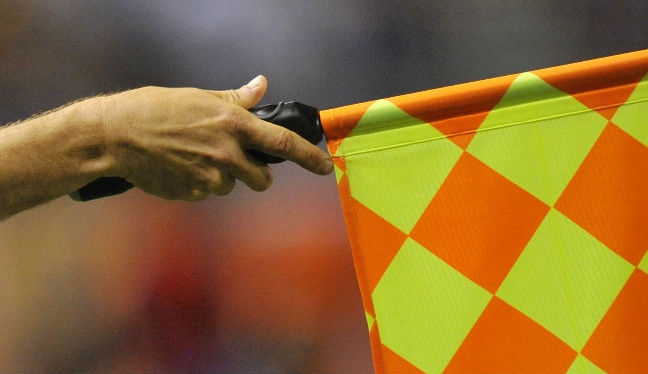 By PRO Training & Development Manager Paul Rejer
In Play of the Week 12 we are discussing the role of the fourth official in terms of being prepared to take over from the referee or an assistant referee.
Apart from the fourth officials' normal numerous duties, he has to be prepared at minimum notice to take over from the referee or an AR, should they be unable to continue during the game.
In the 11th minute of the Chicago Fire versus Houston Dynamo game, AR Kermit Quisenberry is injured and has to leave the field. Fourth official Kevin Terry swaps roles with Kermit.
Referees at PRO level, while they are primarily center officials, all function as fourth officials and, in doing so, may well be called upon to take over from the referee in the match they are assigned to. They should also be prepared for the possibility of taking over from an AR.
Perhaps referees should, from time to time, take an assignment as an AR, like a pre-season game, so they are aware of the role and are not totally alien in circumstances that Kevin Terry found himself in. Vice versa, ARs should referee so they have some appreciation of a referee's role, enabling them to assist more effectively.
Kevin has previous experience of this, having replaced an AR in 2012 in Montreal for a whole game. He studies as an AR just in case this situation occurs and is a student of practices by PRO's Assistant Referee Manager Greg Barkey.
This is highlighted when he is faced with a crucial offside decision. As Chicago Fire are launching an attack, Arturo Alvarez plays the ball to Kennedy Igboananike, who is in an offside position.
If you look at Kevin's body language, he is poised in preparation to raise his flag to penalize the offside. However, Igboananike leaves the ball for Rodrigo Ramos, who is in an onside position, and our 'rookie' AR expertly keeps his flag down, concentrating on the next phase of play.
This offside consideration understandably puts him behind play but he soon catches up to be level with the second-last defender. This means he can judge any potential offside offense when Rodrigo Ramos crosses the ball over to Gilberto, whose header on target produces a great save by Dynamo goalkeeper Tyler Deric.
It is also worth observing referee Allen Chapman's astute reading of the situation and flexibility in his movements as the ball is played into the penalty area.
Kevin's all round performance, and this particular decision, highlights the requirement of fourth officials to be prepared at all times, and this involves practicing the art of being an AR on a regular basis in case of this eventuality.
We always instruct our officials to expect the unexpected, and to be prepared. It is this professional approach that will enable officials to step outside their comfort zone and produce a tremendous wait and see, of which any AR in the world would have been proud of.
As well as expertly assisting the referee, Kevin also passed his knowledge onto Kermit on the touchline when the Dynamo wanted to make a substitution.