Play of the Week 8: Offside and DOGSO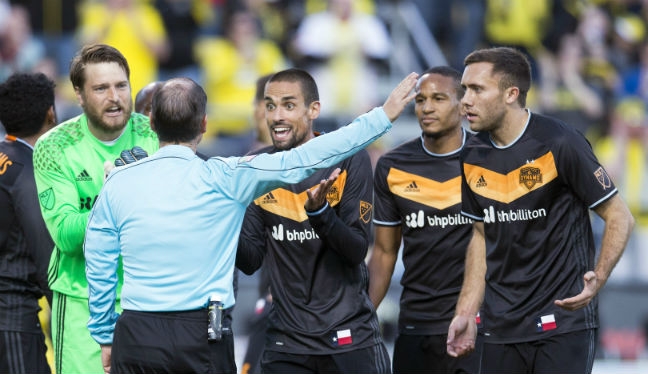 By PRO Training & Development Manager Paul Rejer
The latest Play of the Week focuses on a play from the Columbus Crew versus Houston Dynamo game.
In the play, we see Crew's Kei Kamara attempt to play the ball to team-mate Justin Meram but the pass gets intercepted by Dynamo's Sheanon Williams. The ball then goes into the path of Federico Higuain, who takes the ball inside the penalty area before being taken down by Houston goalkeeper Tyler Deric.
Referee Kevin Stott has three crucial calls to make in a matter of seconds:
– Offside Interpretation
– Penalty kick
– DOGSO
Offside – Gaining an Advantage
When the ball is intercepted by Williams and goes forward, Crew's Federico Higuain is in an offside position. AR Danny Thornberry starts to raise his flag when Higuain plays the ball as he is not aware who last played or touched it.
This is perfectly understandable as he would be trying to concentrate on the offside player while staying level with the second last defender. If he was aware that it was in fact Sheanon Williams – a defender – then he wouldn't have any concept from his position whether it was a deliberate play or in fact a rebound.
We are always discussing with our officials the benefits of dialogue if they are unsure, but in this play there is no time for any conversation to take place.
Raising the flag is a completely natural process and it gives the referee an option. This is Stott's first crucial call, deciding whether it is a deliberate play or a rebound. He decides it is a deliberate play and informs AR Thornberry, who immediately lowers his flag and has to attempt to catch up with play.
Let's remind ourselves what the law says regarding Gaining an Advantage by being in that position in this context:
Gaining an advantage by being in that position means playing a ball that rebounds, is deflected or is played to him from a deliberate save by an opponent having been in an offside position
A player in an offside position receiving the ball (except from a deliberate save) is not considered to have gained an advantage.
Was Stott correct with this call? It can be argued that defender Williams was too close to Kamara's pass for this to be a deliberate play. However, if you look at Williams's foot movement, it moves towards and kicks the ball into the path of Higuain. Therefore, Stott is correct in his interpretation.
Penalty Kick
Like all top-class match officials, Stott does not switch off at this point but focuses on the next phase of play. When Higuain takes the ball inside the penalty area and is brought down by Dynamo goalkeeper Tyler Deric, Stott immediately awards a PK in a confident and positive manner. No one disputes the validity of the call.
DOGSO (Denying an Obvious Goal Scoring Opportunity)
Referees will always consider the possibility of DOGSO when any attacking play is developing. When Stott awards the PK he has no hesitation in showing the red card to Deric.
Is he correct? Again let's remind ourselves of the Law's criteria:
Referees should consider the following circumstances when deciding whether to send off a player for denying a goal or an obvious goalscoring opportunity:
– The distance between the offense and the goal
– The likelihood of keeping or gaining control of the ball
– The direction of play
– The location and number of defenders
– The offense which denies an opponent an obvious goal scoring opportunity may be an offense that incurs a direct free kick or an indirect free kick
There is no doubt that four of the above criteria apply here: 1) the short distance from goal in the penalty area; 2) he is in the possession of the ball, only losing it because of the foul; 3) there were no defenders in front of him, only two trailing behind; 4) the direction of play.
The only criterion that can be argued is "direction of play" and this criterion is misleading. Yes, momentarily he does move away from goal as he attempts to take the ball around Deric, but if he is not fouled what would his next action be? A shot on goal or continue to run in the opposite direction?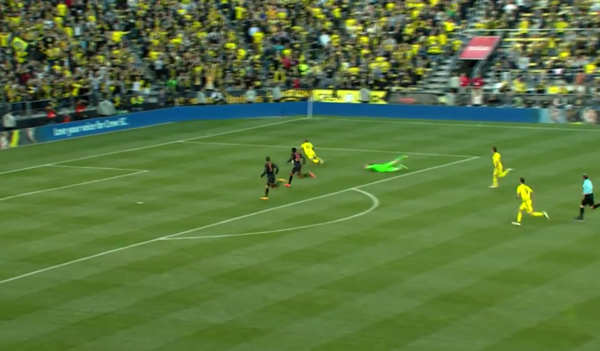 If Deric does not foul Higuain, he has an open shot into an unprotected goal. An accomplished talented player like Higuain would be likely to score from this opportunity.
Therefore, Stott gets all three crucial calls correct in this play and displays what we have discussed many times: continued concentration.