Play of the Week 11: Offside position, in NYC v CHI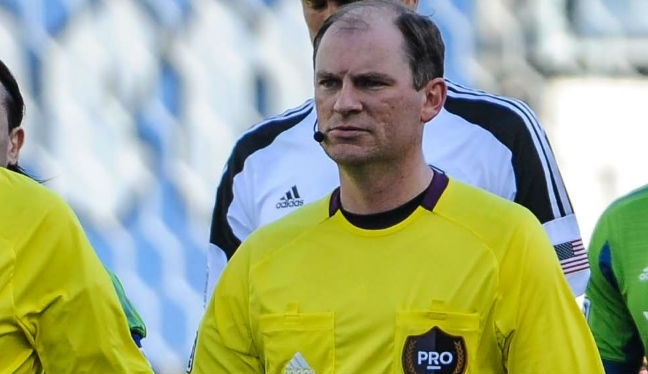 By PRO Training & Development Manager Paul Rejer
In last week's Play of the Week we discussed the importance of being level with the second-last defender or the ball to make accurate offside judgments. This week we had a play that reinforced that message.
In the New York City versus Chicago Fire game at 6:39, from a pass by Fire's Joevin Jones into New York's goal area, goalkeeper Josh Saunders parries the ball into the path of Chicago's Kennedy Igboananike.
Saunders then rushes forward and dives towards Igboananike but fails to stop the ball from going to Chicago's Shaun Maloney.
This forward movement takes Saunders further away from his goal line than four defenders. As the keeper is normally the rearmost defender, AR Jeff Muschik has to discount him from his thoughts and ensure that he is aware of who the two rearmost defenders are, and position himself level with the second one away from the goal line.
At the moment the ball is played he then has to decide whether Maloney is in an offside position. This is where positioning is absolutely vital, particularly in this case when it is extremely tight and an accurate adjudication needs to be made. Any deviation from this position would amount to a guess from a distorted angle.
If you watch Muschik's movements you can see that he correctly follows the initial pass towards the goal line from Harry Shipp to Jones, and then quickly readjusts to be level with the second-last defender at the moment the ball is played.
Muschik's position has to be optimum and the decision is accurate and correct. We see all the attributes discussed in last week's POTW:
– Positioning
– Awareness
– Accurate judgment
– Concentration
– Continued concentration